Nissan shows off Nismo Leaf concept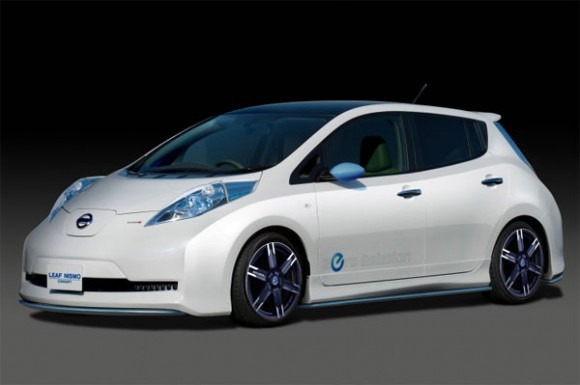 The Nissan Leaf is a full EV that runs only on battery power that has been sold in a few markets around the US for a while now. The car has been one of the more popular full electric vehicles out there despite having had a few issues early on. Nissan has been operating a performance division for a long time that tricks out some Nissan cars for more performance called Nismo.
Nismo has taken the Leaf and hopped it up with cool style in a new concept. The Nismo Leaf concept has style changes with a full body kit, lowered ride height, and LED front lighting. This is the second Nismo concept we have seen in a few months. The last was that awesome Juke with the drive train from the Nissan GTR underneath.
The body kit is said to improve the aerodynamics of the Leaf and provide more down force. The car also gets 18-inch wheels. The drive train is untouched with the same performance and drive range as the standard Leaf. Nissan has also announced that it is taking orders for the normal Leaf in more markets. The new markets include Delaware, Indiana, Louisiana, Nevada, Ohio, Pennsylvania, and Rhode Island.