Nissan Leaf Nismo Debuts in Japan aiming at green hooligans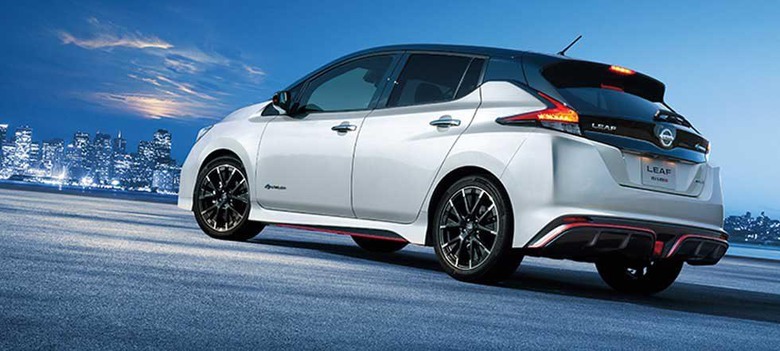 If you ever wanted to be the sort of hooligan that flies around the city, racing from stop light to stop light, but you also want to do it without hurting the environment Nissan has your ride. The new Nissan Leaf Nismo will go on sale July 31 in Japan. Nissan says that the Leaf Nismo combined the world's bestselling EV with the sporty image and performance of Nismo road cars.
The Leaf Nismo has custom tuning computer for more responsive acceleration, custom tires and suspension, and improved style inside and out. The Leaf Nismo is based on the new Leaf EV that debuted in October of last year and has 100% electric drivetrain. It has the same features like e-Pedal and ProPILOT as well as ProPILOT Park autonomous driving features.
We've driven the 2018 Leaf and offered up our driving impressions. The exterior of the Leaf Nismo has double layered wings that adds downforce without messing up the slipper aero of the car that helps with driving range. Nismo buyers also get custom 18-inch wheels that are designed for minimum air resistance.
The Leaf Nismo will come in custom brilliant silver, super-black two-tone, and dark metal grey and super black two-tone colors. Inside the car are lots of red Nismo accents. A three-spoke steering wheel with red center mark and instrument panel with carbon-like finish are integrated. The electronic shift knob is in a gunmetal chrome finish.
The tires are high-grip units and the customized suspension gives a good ride and stable handling. The power steering is custom tuned as well. Alcantara trim is used inside the car for sporty style. Pricing for the Leaf Nismo is unannounced as is when or if the car will come to the US.
SOURCE: Nissan