Nissan kicks off production of 2013 Altima in Mississippi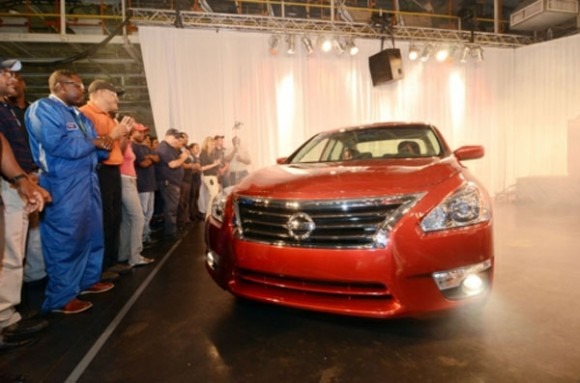 Nissan has announced the production of the 2013 Altima has begun at the car companies Canton, Mississippi Vehicle Assembly Facility. This facility has produced the Altima since 2004 and has built more than 1.1 million of the cars since then. The Nissan Altima is Nissan's best-selling vehicle and one of the most important to the Nissan brand.
The beginning of production for the 2013 year model Altima is in preparation for the car to go on sale at the end of June. The starting price for the car is $21,500. The new 2013 Altima has a certified fuel economy rating of 38 mpg on the highway for the 2.5-liter engine. The car also now comes standard with a Bluetooth hands-free phone system that can also stream audio via Bluetooth.
The car can also be equipped with a navigation suite that allows hands-free text messaging and Pandora playback. All 2013 Altimas also get the Easy Fill Tire Alert system that we talked about before. The base 2.5-liter dual overhead cam in-line four-cylinder engine produces 182 hp and an optional 3.5-liter V6 produces 270 hp. Both engines are mated to a Nissan Xtronic CVT transmission. The price range for the 2013 Nissan Altima starts from $21,500 up to $30,080 depending on the model.