Nissan Juke Nismo RSnow swaps tires for tank-like treads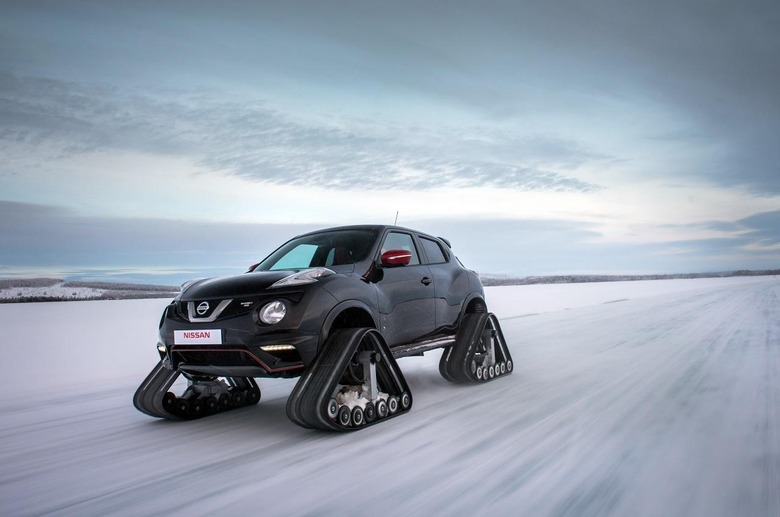 If you've had to deal with a buried or stuck car over the past couple of snowy weeks, Nissan's new Juke Nismo RSnow will look especially appealing: it ditches tires in favor of giant tank-like tracks instead, allowing it to blast through the powdered tundra without issue, bidding farewell to the slipping and sliding of traditional winter driving. This is a variation of the auto maker's previously unveiled Nissan Juke model, being nearly the same in many ways and completely different in others.
The Juke Nismo RSnow is an an all-wheel drive winter-bound off-roading beast, and it brings with it an Xtronic CVT (Continuously Variable Transmission). The tires, meanwhile are replaced with Dominator Track Systems from American Track Truck, according to Nissan's spokesman Josh Clifton in a statement to Autoblog.
Though drivers won't be able to go as fast in the RSnow as they would a regular wheel-bound car, the new Juke variation is still zippy with a max speed of about 62MPH. Some adjustments have been made to the fascias as needed for the use of tracks instead of tires, and the AWD system's torque vectoring has been reprogrammed.
According to Autoblog, Nissan made the RSnow for an ice driving event in Finland, but beyond that nothing is known. Nissan has dropped a bunch of pictures of the vehicle on its website, and it teased the car in a tweet. The auto maker promises to have additional details in the near future, but until then we're left waiting.