Nissan Juke Nismo RS sets 2 wheel mile-long driving record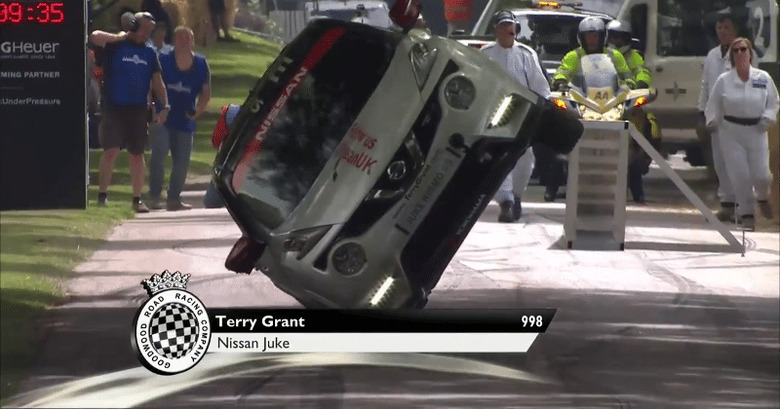 We usually hear and write about cars that set the record straight when it came to speed, performance, eco-friendliness, and other normal metrics, but there are just some stunts that defy odds and rationality. Take for example driving on only two wheels on the same side, something that no car was designed to do. And yet that is exactly what the Nissan Juke Nismo RS did at the Goodwood Festival Speed this weekend, setting a new world record for the fastest mile-long drive on two wheels. Without toppling over, of course.
The Juke NISMO RS is built for speed, with the a Gran Turismo class engine purring underneath the hood. But on that fateful day, it was not the raw power of the car that was put to the test. It was the quality of its build and its resilience in absurd driving conditions that gave the public reason to give applause.
Apparently, there was already a world record for the fastest driving on two wheels for a mile. That was set in 2011 by stunt driver Terry Grant. Lo and behold, the very same driver set to break his own world record, this time using a Juke Nismo RS to make the seemingly impossible possible. A drive of 2 minutes and 10 seconds, more than half a minute faster than the 2011 record.
Granted, the Goodwood track isn't exactly the longest, given it's only 1.16 miles. But here we're talking about a small crossover, driving at speed and on only two wheels, navigating a course that curves and twists. That is definitely no small matter and worthy of praise and a new record.