Nissan GT-R50 by Italdesign looks great flying up Goodwood Hill Climb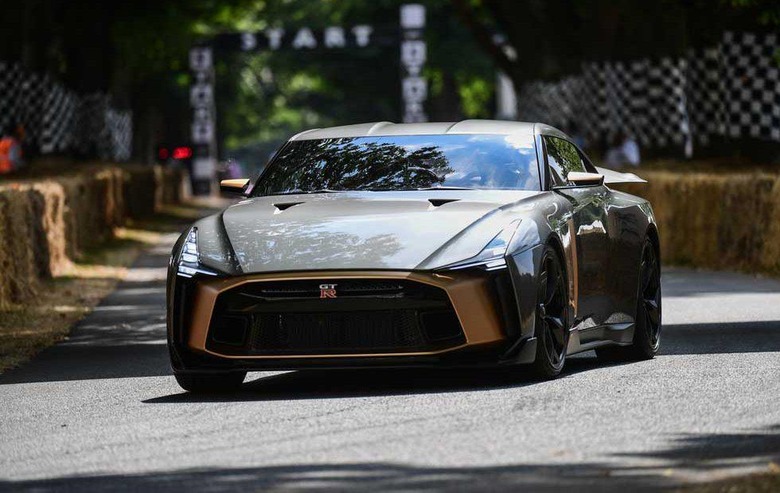 Nissan showed off the GT-R50 by Italidesign at the end of last month and promised that the car would debut officially at the Goodwood Festival of Speed. True to its promise the gray and gold machine was on hand at the event and was piloted up the hill by a pair of GT3 racing drivers.
Those unfamiliar with Goodwood might not know the hill is 1.16-miles long and is on the grounds of the Goodwood House, West Sussex, England. Another nice tidbit about the GT-R50 is that the sexy ride might become the blueprint for a very limited run of hand-built production cars. My money is on 50 units made.
The car has 720Ps under the hood and is meant to commemorate the 50th anniversaries of the GT-R in 2019 and Italdesign in 2018. Compared to a normal GT-R the GT-R50 has the special gray and gold paint, a lowered roofline, LED headlights, and round rear taillights.
The rear wing is adjustable with two uprights. That nice gray is called Liquid Kinetic Gray and the gold accents are Sigma Gold Anniversary. Lots of carbon fiber was used inside the car.
The center console, instrument panel, and door skins are carbon fiber. Gold accents, Alcantara, and other touches adorn the interior. The video below shows bits of the car making its climb up the hill.
SOURCE: Nissan