Nissan GT-R smart key fob concept reverses the smartphone trend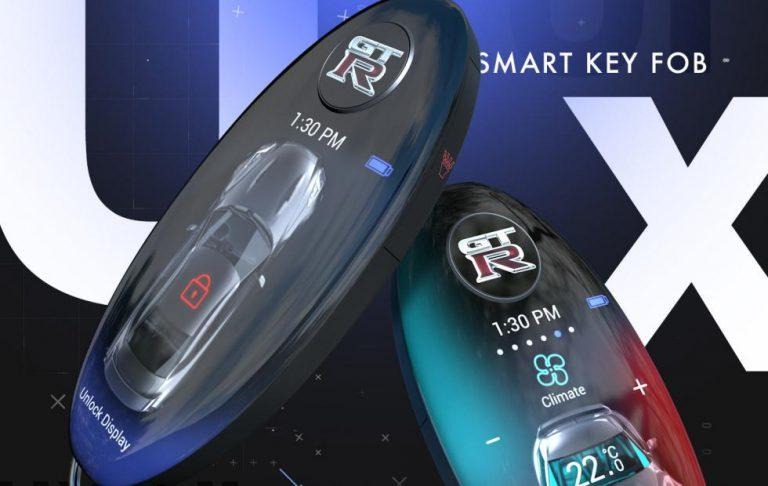 These days we are turning more and more to our smartphones for things we'd often use separate devices or instruments for. That's true even for modern cars where a simple tap on a smartphone's screen could start an engine, turn up the heat, or lock the doors. Some owners, however, may still prefer having a separate key for their vehicle but do want more than what a simple fob can give. Enter the smart key fob, a concept that brings the best of both worlds together in one advanced key that does all but drive the car for you.
The idea behind this smart key fob concept for a Nissan GT-R isn't one of utility or practicality. If that were so, then the current smartphone apps would suffice. Instead, it's creation is based on a desire to have a deeper connection between driver and car that only a key fob seems to bring. That without sacrificing the smart functionality offered by smartphone apps.
The solution presented by the concept naturally involves have a fob with a touch screen. It's a single-function device though, with a customized app that does one thing and does it well. It gives users a touch interface to not only control their car remote but also monitor critical statuses.
There's still a large button at the top that functions like buttons on most key fobs, locking and unlocking the doors. You can swipe up from the bottom of the fob to go to a screen for starting and stopping the engine. Everything is a swipe or a tap away.
It's admittedly an interesting concept but, like many concepts, it would require someone to actually adopt the ideas and turn them into products. Given that these are cars we're talking about, that would have to be Nissan itself, or some other car maker who becomes interested with the idea. Whether it's safer and more secure than a smartphone, however, is probably something that the designers have left for engineers to figure out.