Nissan e-4ORCE brings more performance to EVs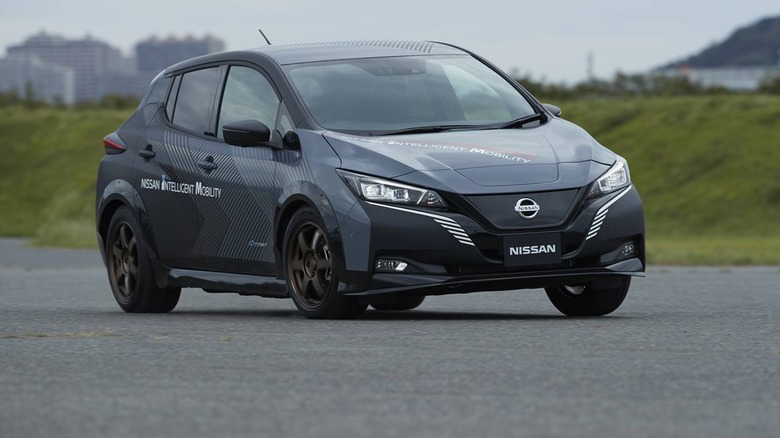 Nissan is talking up a new twin-motor all-wheel-control technology called e-4ORCE. The tech is meant to deliver instant torque to all four wheels of an electric vehicle in a balanced and predictable manner. The goal is to deliver power and handling on par with many premium sports cars.Nissan says that the "e" represents Nissan's tech being 100% electric motor driven. 4ORCE, which is pronounced "force," is meant to "evoke physical power and energy. The number "4" stands for all-wheel control driving capability.
Nissan says that the tech was born from lessons it learned in the development of the GT-R ATTESA E-TS torque split system and the Nissan Patrol's intelligent 4x4 system. e-4ORCE is designed to manage electric vehicle power output and braking performance to make the vehicle smooth and stable.
Nissan says the result of the e-4ORCE tech is unparalleled ride comfort thanks to the ability to minimize vehicle pitch and dive. That is accomplished by employing regenerative braking from the front and rear motors. City stop and go driving is more compatible and ride comfort can be maintained on bumpy roads when accelerating.
Nissan says that e-4ORCE increases driver confidence by faithfully tracing the intended lines thanks to an ultra-high-precision motor and brake control. The system will make driving on a variety of road surfaces, including slippery conditions, more enjoyable. Nissan will display the e-4ORCE tech on the Ariya Concept in the booth it has at CES 2020 and on a test car in Las Vegas. It's unclear when the new e-4ORCE technology might come to a production vehicle that consumers can purchase.