Nissan DeltaWing gets wet and wild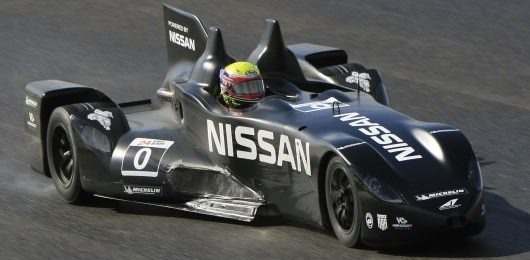 Nissan's DeltaWing project is on track to take on the famous 24-hour Le Mans race in June. It recently had its first serious run on the wet tracks of UK's Snetterton circuit, proving that it can handle the slippery conditions that are common to the rainy competition. Unlike all the other fuel guzzling super vehicles gearing up for the demanding race, the Nissan DeltaWing uses half the gas thanks to its smaller engine, lighter weight, and more aerodynamic design.
The Nissan DeltaWing runs on a small 1.6-liter Nissan DIG-T turbo engine with about half the power of conventional prototypes. However, it's also half the weight and produces half the aerodynamic drag of a traditional Le Mans racecar. As for its aerodynamic design, the DeltaWing is often compared to a modern day Batmobile. It also sports unusually narrow 4-inch wide front tires.
The vehicle had previously been tested on the Sebring circuit in the US where a water truck dampened the racetrack to produce conditions more similar to the Le Mans race. But that wasn't nearly wet enough as real rainy conditions, which the Nissan DeltaWing team were lucky to get during their recent test run on the Snetterton track. The team is still tweaking the DeltaWing based on results from the run and is working with Michelin on the tires with only two months left before the Le Mans debut.
The aim for the DeltaWing Project, though, isn't to win the Le Mans, but to make it to the finish line. The DeltaWing is considered a non-competitive entry or an exhibition racer that's meant to be a proof of concept.
[via GizMag]