Nissan creates the biggest remote controlled GT-R ever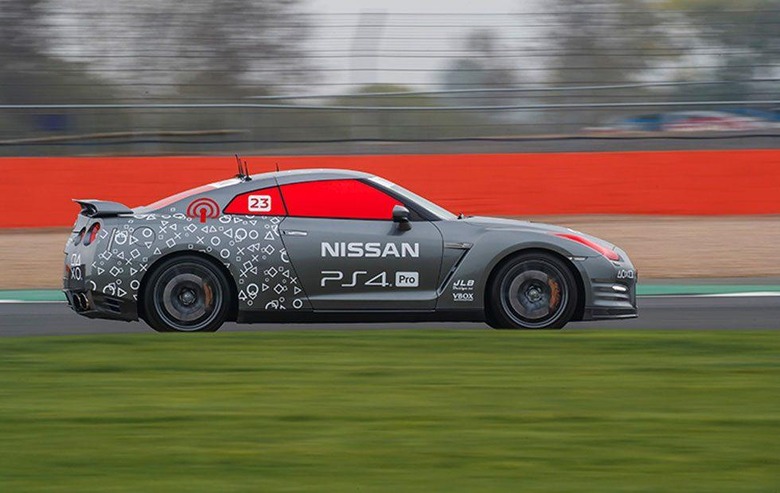 To celebrate the release of Gran Turismo Sport on October 18 Nissan has done something very cool. It took a Nissan GT-R and turned it into a full-size RC car that is controlled by a DualShock 4 controller to create the GT-R /C. The giant RC car was driven around Silverstone race track by Jann Mardenborough, the winner of GT Academy.
The driver of the car was flown around behind the GT-R /C in a helicopter and controlled the car from there. If you have never driven a fast RC car, you might not know how hard it is to control the vehicle when it is coming towards you, controls are reversed in that instance. Being in the helicopter with the car always pointing away from you makes things easier.
The fastest lap the car made around the track was a 1:17.47 with the car averaging 76 mph and hitting a top speed of 131 mph. Modifications for the lap included four robotic devices for operating steering, transmission, brakes, and throttle. There were six computers in the car that were able to update the controls 100 times per seconds.
The PS4 controller was connected to a microcomputer that took the joystick inputs and sent them to the onboard systems inside the car. The car has a wireless operation range of about one kilometer.
Nissan plans to use the car to tour primary and secondary schools in the UK to promote careers in science, technology, engineering, and math. It's a good thing the driver knows how to play Gran Turismo Sport, I'm sure Nissan wouldn't appreciate bouncing this car off the walls of the track.
SOURCE: Nissan