Nissan begins testing self-driving taxi service in Japan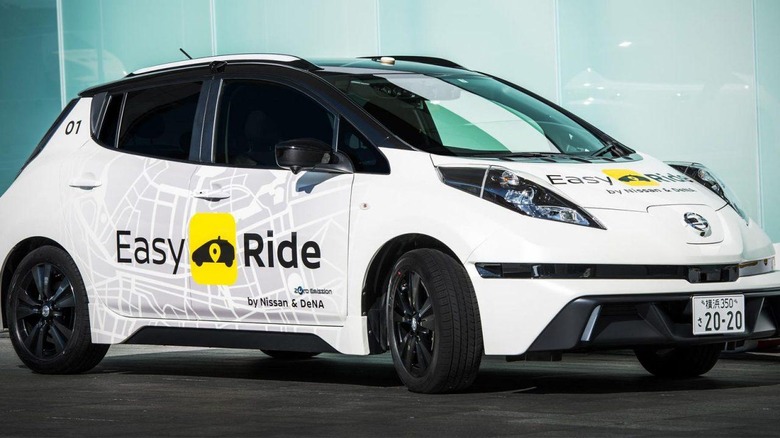 The US has been at the forefront of self-driving technology, with Silicon Valley serving as a hotbed for its development and Uber as a pioneer for the ride hailing market. But Japan's tech and auto giants are eager to catch up, with Nissan announcing that its new autonomous taxi service, Easy Ride, is ready to begin live testing with passengers next month.
Nissan has partnered with Japan's DeNA, one of the country's largest mobile developers, to launch Easy Ride, a service that functions similar to Uber and Lyft, with riders requesting a self-driving vehicle via app. The live tests will begin on March 5th, and will limited to the city of Yokohama, with Nissan's autonomous cars tied to a preset 4.5-kilometer route running between the Nissan headquarters and the Yokohama World Porters shopping center.
Nissan notes that drivers will be stationed behind the steering wheels for safety, while the vehicles will also be monitored from a remote operations center. Passengers will not only be testing the car ride itself, but a number of the Easy Ride app's features as well, such as telling it what they'd like to do or where they want to go.
The cars feature built-in tablets that will show passengers nearby places of interest, events, and other recommendations. The Easy Ride service is also partnering with local businesses, offering discounts and coupons for restaurants and retailers located in the area. Those participating in the tests will be surveyed on the quality of the experience and the price they'd be willing to pay to use the service in the future.
While this trial period will only last for a couple of weeks, Nissan has been working on the Easy Ride service since last year, and on its autonomous driving technology long before that. The company plans to have the self-driving taxi system operating in Tokyo in time for the 2020 Summer Olympics, where it can target the huge influx of tourists at the time, followed by a wider rollout shortly after.
SOURCE Nissan