Nissan autonomous driving technology to arrive in cars in 2020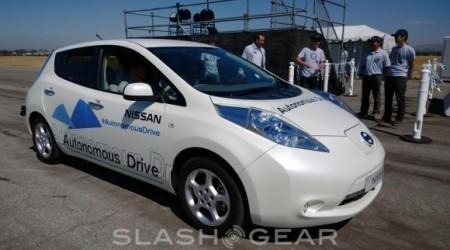 Nissan has been hard at work on its autonomous — aka, "self-driving" — car technology, which we got an in-depth look at this past summer. While there is a lot of work remaining, auto makers are scrambling to get their technology into the public's hands. Today Nissan has pegged an initial launch date for its autonomous technology, with the first cars utilizing the platform arriving in 2020.
The information came from Nissan itself ahead of the auto maker's participation in the 2013 Tokyo Motor show, slated for later this month through the first of December. A wide range of concept cars will be unveiled at the show, as well as some other particulars, but one area specifically deals with self-driving cars.
In 2020, Nissan plans to have its Autonomous Drive technology available in "multiple vehicles." From there, Nissan aims to have it available across a model range after 2020 "within two vehicle generations," and it will come with a price that is realistic for the average consumer. It will still be a while before the technology is widespread, however.
Back in August, we talked to the president of Nissan Technical Center North America and senior vice president of NNA R&D Americas, Carla Bailo, who said: "Or, when it comes to rolling [autonomous driving technology] out – and this is the "when" part – maybe it has to be in a very controlled part, whether that's of the state or of the city, where you can roll it out gradually until you can get to that point where it can exist everywhere. And that's going to take a lot of years, because if you think of rural America, it's going to take a lot of time before it gets there."
SOURCE: Nissan Global