Nissan and Scoot bring four wheel Scoot Quads to San Francisco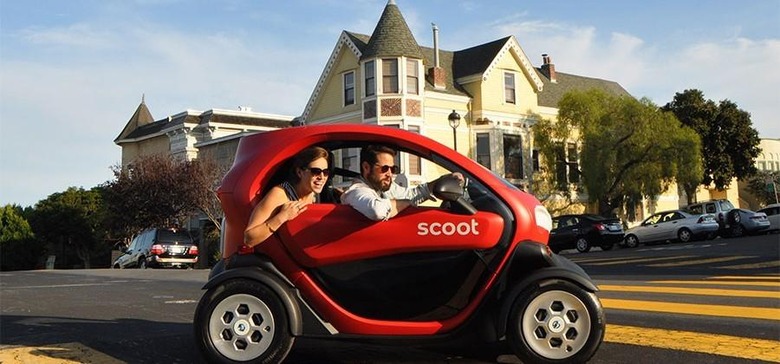 Scoot has a new way for folks to get around in San Francisco that is the result of a tie up with Nissan. Nissan has put ten of its new electric Nissan New Mobility Concept Vehicles on the Scoot Network service and the concept vehicles are known as the Scoot Quad. These 100% electric vehicles have a range of 40 miles and a top speed of 25mph.
They are designed for driving in urban areas and are in addition to the traditional electric mopeds that Scoot has been offering for rent and marks the first foray into four wheels for Scoot. The little four wheel EV can carry two people sitting in tandem rather than side-by-side as you do in a car.
The battery packs inside the Scoot Quad are topped off by $1 of electricity according to Scoot from a normal wall outlet. The 40 city mile driving range of the car equates to 250 MPG and the Scoot Quad produces only 6% of the CO2 per mile of a traditional car adding in the emission from the power plant.
People wanting to rent the Scoot Quad need a US driver's license and a Scoot membership. The little cars can't be driven on freeways, bridges, or roads that have speed limits over 35mph. Pro Plan members pay $8 for a half hour of use and Go Plan pay $8 per half hour unless it's during rush hour Monday through Friday and then they pay $16 per half hour. No Plan pricing is always $16 per half hour. Day rates are always $80 flat for 7am to 7pm and night Rates are $40 from 7pm to 7am.
SOURCE: Scoot Networks