Nissan 2020 370Z 50th Anniversary Package priced up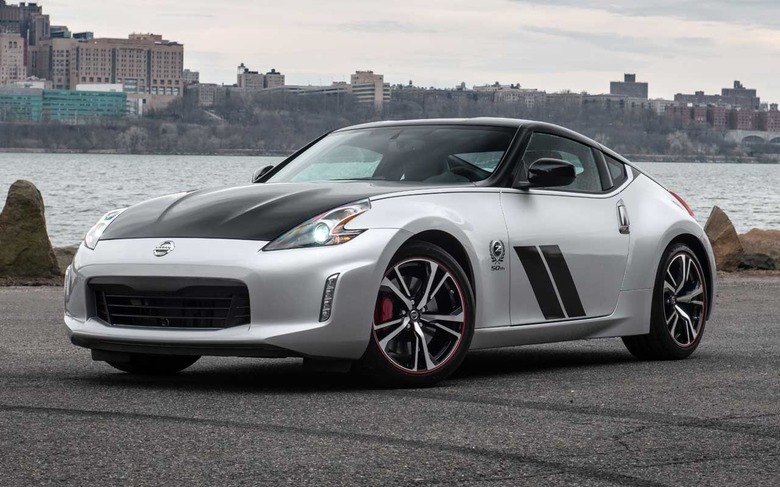 About a week ago we talked about the cool 2020 Nissan 370Z 50th Anniversary edition when the automaker announced the 2020 line of 370Z cars. The 50th Anniversary Edition is the version that caught the eye of most Z car fans with its slick racing inspired, throwback livery. One thing we didn't know about that car was how much it would cost.Nissan has changed that with the announcement of pricing for the entire 2020 370Z lineup. The line for this year includes the base 370Z coupe, 370Z coupe sport, 370Z Sport touring, and the 370Z Nismo. All of the models except the Sport touring are offered with a 6-speed manual transmission or a 7-speed automatic.
The Sport touring only comes with a 7-speed automatic, and that car starts at $39,490. The base 370Z coupe with the manual starts at $30,090 with the 7-speed auto version for $31,490. The 370Z Sport with 6-speed manual starts at $44.820 with the 7-speed auto version starting at $35,070. The 370Z 50th Anniversary edition is only offered as a package on top of the 370Z coupe Sport model and adds $2,600 on top of the base price of that car.
The package includes leather and suede interior with red accents and 50th Anniversary embossing. The front and rear spoilers of the Sport edition are removed, and other interior features are included. The significant change is that painted on racing livery that the cars wear as a throwback to the original 240Z.
Sitting at the top of the 370Z range is the Nismo with the 6-speed manual going for $45,790 and the 7-speed automatic for $47,190. All prices are without the $895 destination and handling charge. All 370Z cars save the Nismo use a 332hp 3.7L V6 engine; the Nismo gets a 350hp engine.