nio Bluetooth cellphone guardian [Video]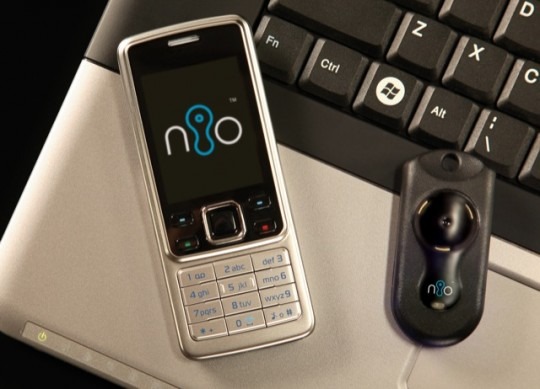 If you've ever watched a taxi drive off into the distance with your cellphone on the back seat, left your phone under a napkin at a restaurant or just found you're halfway to work and your BlackBerry is still sat charging in the kitchen, then nio believe they have the solution.  The UK firm are offering a Bluetooth keychain and some proprietary software that you install on your cellphone; that creates a roughly 25m link between the two, which if exceeded causes both keychain and phone to flash and sound an alarm.
Video overview after the cut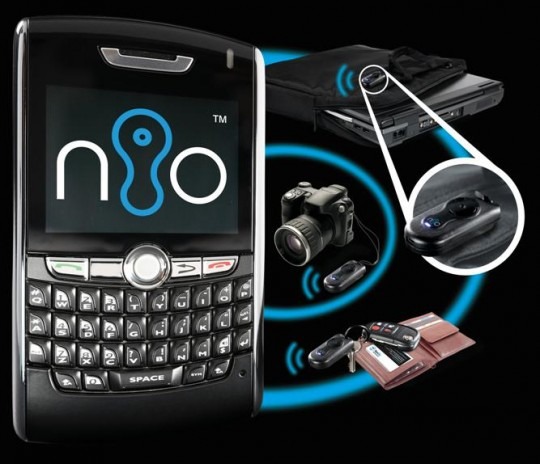 That way, before you've got too far out of the front door, you'll be reminded to pick up your phone.  Meanwhile the keychain itself is designed to be attached to other gadgets of value – your DSLR, perhaps, or a laptop – so if that goes missing then you'll be alerted to it via your phone.  Of course, if both are in the same bag then you're out of luck.
The full list of supported phones is below, with most of them allowing the nio software to run in the background.  It's currently available to order, priced at £39.95 ($66).
Press Release:
nio – your new Gadget Guardian

Powered by Bluetooth, nio™ prevents the accidental loss and opportunistic theft of portable devices such as Blackberrys, laptops and memory sticks

Edinburgh, UK – 8 Sept 2009 – British mobile innovator TenBu has today unveiled a gadget that secures mobile phones and other portable devices by creating a personal alarm system powered by Bluetooth. For the billions of people who carry mobile phones and other devices, nio™ provides an easy and cost-effective way of protecting valuable items and the invaluable data contained on them.

nio™ is a lightweight, user-friendly gadget consisting of a Bluetooth tag with an innovative software link that downloads directly onto the user's mobile phone, creating a personalised security zone of up to 25 metres. The security zone protects both the mobile phone and the Bluetooth tag, which may be attached to another valuable item, such as a set of keys or a laptop. When the security zone is breached, both the tagged item and the mobile phone emit an audible alarm. A flashing blue light on the tag is also triggered.

nio™ is specifically designed for ease of use. The nio™ software can control multiple nio™ tags simultaneously, and each tag can be given an identifying name and image on the mobile phone. In extremely high-risk environments, users can activate a Motion Sensor to alert them if anyone moves their tagged item. A handy "locate" tone helps users find misplaced tagged items, and a calendar feature allows users to preset specific times for the tag to go active – ideal for the commute to work. Uniquely, nio™ comes equipped with a fully rechargeable battery that can keep nio™ on standby for several weeks.

"It's easy to forget just how much confidential data is stored on your mobile phone or laptop, from photos to contacts, and it's also easy to forget just how easy it is to lose your mobile phone or laptop," said Ben Hounsell, Director of TenBu Technologies. "nio™ prevents not only the time, cost and stress of replacing the lost item and its data, but also the very real cost of someone's gaining access to and abusing your personal information."

An estimated 2,600 mobile phones are lost or stolen every minute somewhere in the world. It frequently happens that people do not realise they have lost something valuable until it is too late to recover. nio™ prevents the loss or theft of valuable items by alerting people the moment they and their valuable items become separated.

A formidable first line of defence against the loss or theft of valuable portable items, nio™ is compatible with most smartphones.

List of compatible phones:

nio™ currently supports the following devices. We are constantly updating this list so please check http://bluenio.com/compatibility/ if your handset is not shown.

Blackberry:

• Bold – 9000

• Curve Series

• Pearl Smartphone's

• 8800 Series

• 8700 Series

• 7130 Series

Windows Mobile:

• Windows Mobile 5.0: Smartphone, Pocket PC devices

• Windows Mobile 6.1: Smartphone, Pocket PC devices

Java-enabled devices that will run nio™ in the background:

• Nokia: N-Series, E-Series, 3230, 3250, 3650/3600, 3660/3620, 5800, 5610, 5320, 5310, 5300, 5220, 5130, 6110, 6220, 6260, 6600/6620, 6630, 6670, 6681/6682, 7610, 7650

• Sony Ericsson: K-Series, W-Series, Z-Series, G502, V630i, V640i, C702, C902, C905

• Secret (KF750), KF300

• Samsung: SGH-D720

• Panasonic: X700, X800

Please note the following Java enabled devices will NOT run nio™ in the background:

• Nokia: 8800, 8600, 7610, 7510, 7500 Prism, 7373, 7310, 7210, 7100, 7070 Prism, 6700, 6600, 6500, 6303, 6301, 6300, 6267, 6220, 6212, 6210, 6151, 6131, 6124, 6121, 6120, 6111, 6086, 6085, 5000, 3600, 3500, 3250, 3120, 3110, 3109, 2630

• LG: Renoir (KC910), KP500, KC750, KS360, KT520, KC550, LG Secret (KF750), KF300