Nintendo's surprise Mario Maker 2 Direct makes E3 2019 exciting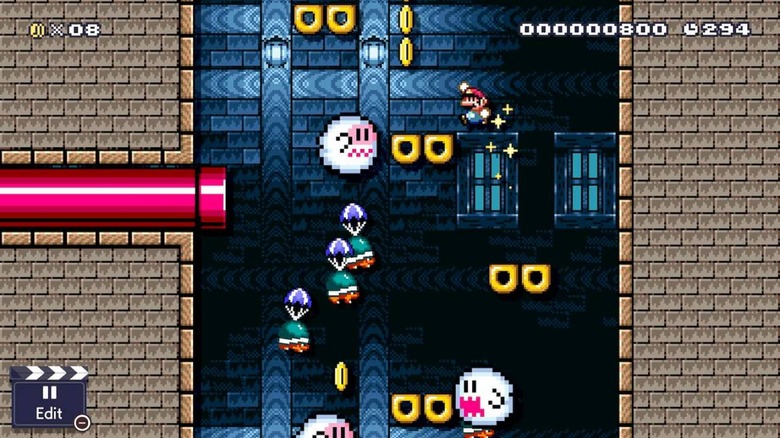 Nintendo announced today that it will host a special Nintendo Direct dedicated to Super Mario Maker 2 ahead of E3. Super Mario Maker 2 is Nintendo's big summer game for the Switch, and though it's out on June 28th, Nintendo has been pretty quiet about what we should expect in terms of new (or improved) features and capabilities. It seems that whatever lingering questions fans have about Super Mario Maker 2 will be answered tomorrow when this Direct premieres.
In a post published to Twitter just a little while ago, Nintendo of America announced that this Mario Maker 2 Direct will be broadcast tomorrow, May 15th, at 3 PM Pacific/6 PM Eastern. The Direct will last around 15 minutes and will be entirely dedicated to Mario Maker 2, so don't expect to hear anything about other upcoming Switch games during the presentation.
Tune in on Wednesday, May 15 at 3 p.m. PT / 6 p.m. ET for a roughly 15-minute presentation packed with information all about #SuperMarioMaker2 for #NintendoSwitch. pic.twitter.com/YUEDCzKQO4

— Nintendo of America (@NintendoAmerica) May 14, 2019
With this Direct now out in the open, Nintendo's plans for E3 become a little more mysterious. Back when Nintendo confirmed its E3 2019 schedule – complete with a special E3 Direct to kick things off – I assumed that the company would spend most of its time talking about Mario Maker 2, as we'd be just a few weeks away from launch at that point.
Now, that may not be the case. Super Mario Maker 2 will still get a lot of attention at E3 2019, but with Nintendo broadcasting this Direct before the show, it means that the company could focus less on it during its E3 Direct and more on other upcoming games and new announcements.
We'll see what happens from here, but now that there's a Direct devoted entirely to Super Mario Maker 2 landing tomorrow, we're even more interested in seeing what Nintendo has in store for E3. You'll be able to watch the Direct either on YouTube or on Nintendo's Twitch page, and as always, we'll be covering the big announcements right here at SlashGear.