Nintendo Wii U Next-Gen Console Official [Video]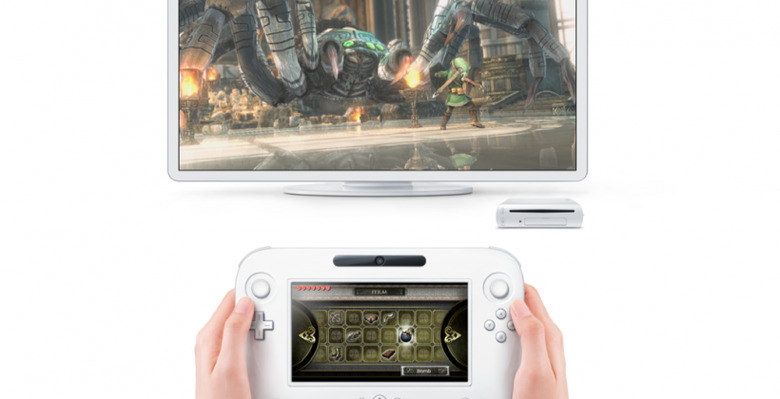 Nintendo's E3 2011 press conference has officially unveiled the much anticipated next-generation Wii game console. Nintendo's original Wii revolutionized gameplay and naturally its next offering would draw a lot of attention. What could the company come up with next? Well, its the Wii U and we've already brought you early details on it during our coverage of the press event, but here now is a video of the announcement plus trailer along with the official press release.
Many of the rumors surrounding the next-gen console turned out to be true. The Wii U's game controller will indeed sport a 6.2-inch screen and a front-facing camera as suspected. It will also have an accelerometer and a gyroscope, a rumble feature, a microphone and speakers. Classic controller buttons such as two analogue Circle Pads, +Control Pad, A/B/X/Y buttons, L/R butttons, as well as ZL/ZR buttons in addition to the new features will create many new possibilities in gameplay. There's even a new "Shield Pose" that uses the controller as a shield to block attacks by projectiles.
In single player mode, the controller can display information on its screen that you won't find on the TV. For example, you could view a terrain from a different vantage point such as a birds-eye view. In multiplayer mode, the player using the controller can have a different view than the players using the TV.
The new Wii U console will support full HD and will come with one new Wii U controller. It will be fully compatible with classic Wii Remote controllers as well as be backwards compatible with all Wii games. The release date for the new console has not been confirmed yet, but will likely come out in the first half of next year. In the meantime, there are several new Nintendo 3DS titles for your to enjoy. For the full details you can take a look at the video and press release below.
Press Release:
Nintendo's Upcoming Wii U Console Features Controller with 6.2-inch Screen

Nintendo 3DS Continues its Evolution with Mario Kart, Super Mario and the Nintendo eShop as Nintendo Celebrates the 25th Anniversary of The Legend of Zelda

LOS ANGELES–(BUSINESS WIRE)– At the E3 Expo, Nintendo introduced a new paradigm for video games and home entertainment: Wii U™, a new console that includes a controller with a 6.2-inch screen. Adding a second screen to the living room creates a multitude of new video game experiences while offering families a variety of options to customize their entertainment.

Previously, video games played on a home console have been confined to the TV and offered identical viewpoints to each player in a multiplayer environment. Furthermore, watching TV and playing console games have been completely separate experiences. The new controller removes these boundaries, creating a more dynamic and fluid gaming and entertainment experience. Visitors to the E3 Expo will see firsthand the type of gaming experiences made possible by Wii U and the new controller such as:

In single-player games:

The new controller can display information on its screen that does not appear on the TV.

The information and viewpoint can also change in the new controller based on the orientation of its gyroscope.

In multiplayer games:

The player using the new controller can have a different experience than those looking at the TV. This will offer a wide variety of competitive and cooperative opportunities.

In addition to the 6.2-inch touchscreen, the new controller also features an accelerometer and a gyroscope, a rumble feature, an inward-facing camera, a microphone and speakers. Adding these features to the Classic Controller™ button scheme – two analog Circle Pads, +Control Pad, A/B/X/Y buttons, L/R buttons and ZL/ZR buttons – will enable a breadth of game-play experiences while appealing to both casual and dedicated video game players.

Wii U combines motion-sensing game play with the ability to support full HD graphics. Each Wii U console will be partnered with a new controller and can also use up to four additional Wii Remote™ or Wii Remote Plus controllers. The system is also backward compatible and can play all Wii games and use all Wii accessories. The Wii console has sold more than 86 million units globally and greatly expanded the overall audience for video games. Wii U aims to expand that audience even further. Developers worldwide are already working on new games and experiences for the console.

"Wii U redefines the structure of home entertainment by fundamentally changing how the TV, the game console and the Internet function and interact together," said Nintendo President Satoru Iwata. "The experience enabled by Wii U and the new controller takes players deeper into their games, while reaching out wider than ever before to be inviting to all kinds of gamers."

Nintendo 3DS™, which lets users see 3D images without the need for special glasses, launched in the United States on March 27 and continues to evolve. Owners will find that their Nintendo 3DS experience is different every time they pick up the system, thanks to new content and updates delivered by Nintendo, by third parties and exchanged between users.

A new system update is now available for the Nintendo 3DS system. Users who connect to a wireless broadband Internet connection and install the system update will instantly gain access to the Nintendo eShop, which contains a variety of games and applications for download using a cash-based system.

Users can browse original 3D software, 3D Classics (select classic video games re-mastered in 3D), classic Game Boy™ and Game Boy Color games, and more than 350 games and applications currently offered for the Nintendo DSiWare™ service. Visitors can also see videos and screen shots for games, plus see how other players rank games.

The system update also provides Nintendo 3DS owners access to free items, including an Internet browser that can show 3D images on sites specifically designed to show 3D images, a download of a re-mastered 3D version of the NES™ classic Excitebike™ game (free until July 7) and Pokédex™ 3D, which lets users discover and view more than 150 Pokémon™ from the Pokémon Black Version and Pokémon White Version games in visually engaging 3D.

Nintendo also announced a huge lineup of upcoming new and fan-favorite franchise games, many of which are playable on the E3 Expo show floor in booth 4922.

Nintendo 3DS: Super Mario™, Luigi's Mansion™ 2, Mario Kart™, Kid Icarus™: Uprising, The Legend of Zelda™: Ocarina of Time™ 3D, Star Fox 64™ 3D, Animal Crossing™, Paper Mario™, Picture Lives!, The Rolling Western™.

Wii: The Legend of Zelda™: Skyward Sword, Kirby™ Wii, Wii Play™: Motion, Mystery Case Files™: The Malgrave Incident™, Mario Party™ 9, Rhythm Heaven™ and Fortune Street™.

Nintendo DS™: Kirby™ Mass Attack, Professor Layton and the Last Specter™, Dragon Quest Monsters: Joker™ 2 and Super Fossil Fighters™.