Nintendo Wii U bundle 'Splatoon' arrives May 29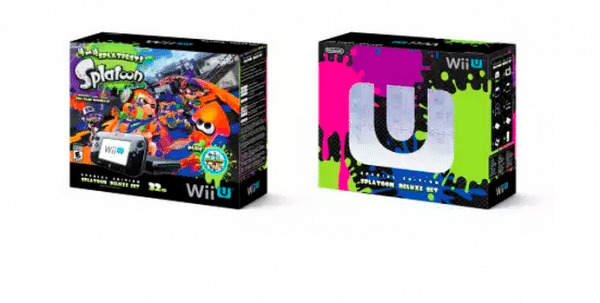 Nintendo has announced the upcoming arrival of a Wii U Splatoon bundle, which will bring with it the title alongside Nintendo's Wii U console. The bundle will be available starting next month from Best Buy, and will involve a Wii U Deluxe console, pre-installed Nintendo Land games, and a code to download Splatoon for free. The game is a family-friendly offering, being an action shooter with ink-spraying, customizable characters, splatting, squid transformations, ink-swimming, and more. It'll be priced at $299.99 USD when it drops.Splatoon is one of those funny and slightly odd titles that Nintendo faithfuls will be familiar with by now. Players customize their characters, and they can transform themselves into squids if they want to. When in squid mode, they're able to swim on through their own ink, and can also use their ink to hide from enemies.
It includes team play modes, such as Turf War for four-on-four gameplay online that pits teams against each other. The first team to cover the ground with the most amount of their own team's ink wins. There's also one-on-one matches in Battle Dojo, Ranked Battle play, and a single-player campaign that pits the gamers against the Octarian enemy army.
As you'd expect, the game leverages the Wii U's GamePad controller, and there are also amiibo figures that'll be available as an optional way to get special items that won't otherwise be available to gamers. The bundle launches at Best Buy on May 29.
SOURCE: Business Wire