Nintendo unloads more juicy ARMS tidbits for the Switch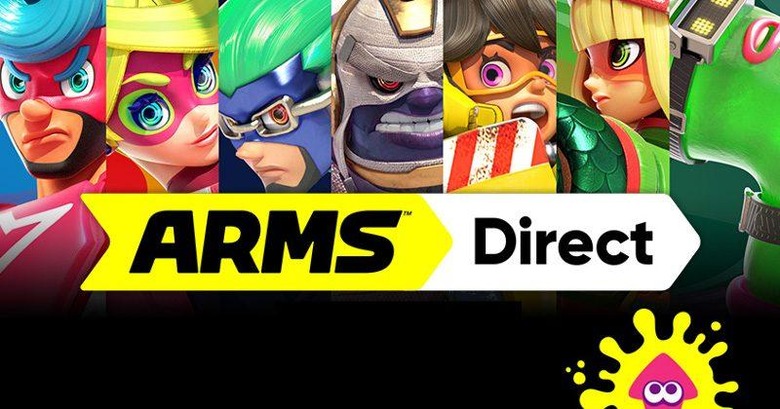 As promised, Nintendo just held a Direct livestream divulging more details about ARMS ahead of its launch on the Nintendo Switch this Spring. In addition to a more concrete launch date next month, the stream was packed with too much information that could fit in the short stream. Whetting Splatoon fans' appetites, Nintendo unleashes more information about ARMS' weapons, playing modes, and characters. Whetting Splatoon fans' appetites even more, Nintendo shared a short trailer for the upcoming Splatoon 2 as well.
In some sense, ARMS is like a cousin of Splatoon, mixing fast-paced third-person shooters with a rather whimsical design. But while you do fight at a distance in ARMS, you aren't really shooting ammo. Instead, you punch your enemies from afar with different types of, well, arms. Like any good shooter, you have a variety of weapons at your disposal, each with their own special effects and attributes. There are 7 attributes in total, namely fire, electricity, wind, ice, stun, explosion, and blind. And since you do have two arms, you can actually mix and match those. Be warned, however, that weight plays into character's speed and agility.
Speaking of characters, Nintendo revealed that there will 10 playable fighters at launch. It revealed five of the last March, Spring Man, Ninjara, Master Mummy, Ribbon Girl, and Mechanica. For this round, Nintendo introduced Min Min with her ramen arms, the literally dashing Kid Cobra, the amorphous Helix, the beauty queen Twintelle, and "conjoined" robot twins Byte & Barq. While each character does have her or his own special quirks, you can also equip them with different types of ARMS that exploit those features.
Last but not least, Nintendo revealed the nearly a dozen ways you can play ARMS, whether with or against friends or against fiendish AI. You can fight one on one or two on two. You can even play volleyball with an explosive sphere. Or you can go all Dynasty Warriors like with a 1-on-100 mode. All this can be enjoyed with other players either remotely on in local wireless mode.
Splatoon 2 fans have also been given a treat, with Nintendo sharing a trailer showing the game's single-player mode. Here you have a story to follow but you still shoot around baddies to get the happy ending. Here, however, you do so at your own pace, learning the ropes that could later lead you to victory in a more frantic multiplayer mode.
ARMS launches on June 16 while Splatoon 2 goes live on July 21, both exclusive to the Nintendo Switch. Before that, however, Nintendo will be holding a free Global Testpunch trials in the weekends leading up to the launch.
SOURCE: Nintendo