Nintendo Switch Upcoming Games Detailed: Mario Kart 8 Deluxe, Minecraft And More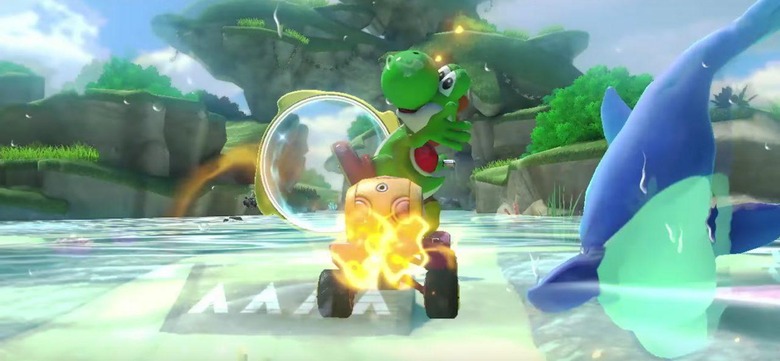 Nintendo held its latest 'Nintendo Direct' today, and during it the company detailed more than a dozen games that will be arriving for the Switch in coming days, weeks, and months. This includes some hotly anticipated games, such as Minecraft and Mario Kart 8 Deluxe, as well as some beloved classics via the NEOGEO Arcade Archives and Namco Museum. In addition to the game launches, Nintendo revealed that a limited quantity batch of standalone Switch docks will arrive on May 19.
Overall, Nintendo's game lineup for its latest — and largely successful — console is great, and includes immediately recognizable things like Splatoon 2 and Monopoly. There's a bit of something for everyone and mostly every age group, including things like Payday 2 for older kids and adults, and Rayman Legends: Definitive Edition for kids. Though most of the games launch starting next month and running through the holiday season, things like a Puyo Puyo Tetris demo arrive tomorrow.
If you have time to watch the Nintendo Direct video above, check it out — you'll get to see gameplay for each of the upcoming games, as well as some of their features such as tournaments and online play in Mario Kart 8 Deluxe. If you don't have time to watch, though, the full list is below:
- Mario Kart 8 Deluxe: April 28

- Ultra Street Fighter II: The Final Challengers: May 26

- Minecraft: Nintendo Switch Edition: May 11

- The NEOGEO Arcade Archives: Tomorrow

- Sonic Forces: Holidays 2017

- Sonic Mania: Summer 2017

- Project Mekuru: Summer 2017

- Fate/Extella: July 25

- Disgaea 5 Complete: May 23

- Puyo Puyo Tetris (Demo): Today

- Monopoly: Fall 2017

- Rayman Legends: Definitive Edition: '2017'

- Sine Mora EX: Summer 2017

- Battle Chasers: Nightwar: Late Summer 2017

- Payday 2: '2017

- Namco Museum: Summer 2017

- Splatoon 2: July 21