Nintendo Switch Owners Can Head On Down To South Park This Week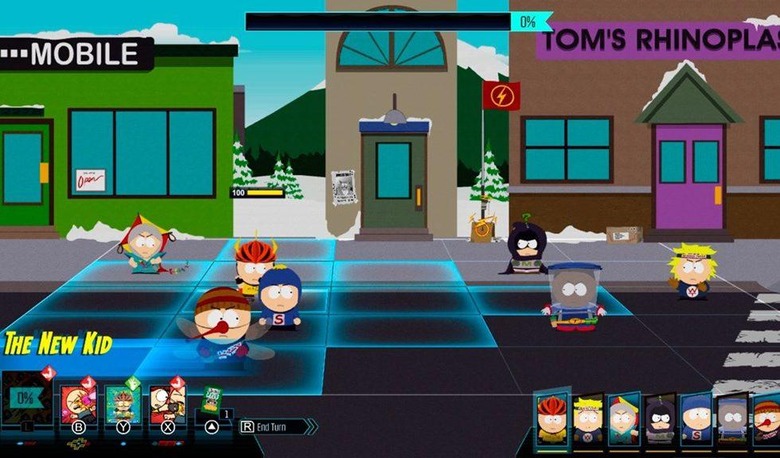 It's a big week for Nintendo Switch owners – or at least those who also like South Park. Just as it does every Thursday, Nintendo has detailed all of the games coming to the eShop over the next week, and this week the headliner is a pretty big one. South Park: The Fractured But Whole will be making its debut on the Switch in a few days, giving Switch owners the chance to check out this unique game if they haven't already on other platforms.
One reason why this launch is so noteworthy is because we don't often see titles like South Park: The Fractured But Whole launch on Nintendo consoles. Nintendo built up a family-friendly reputation for itself during the days of the Wii and the Wii U, but with the Switch, we've been seeing the company embrace titles meant for more mature audiences. South Park is definitely one of those games, but it also happens to be a fine RPG as well, so consider picking this one up if you haven't played it yet.
South Park will be joined by a collection of smaller and lesser-known titles over the course of the next week. Fans of management sims might want to take a look at Football Manager Touch 2018, though on second thought, giving Football Manager fans more flexible ways to play might make their addiction even more severe. Have a look at the full list of games slated to hit the Nintendo eShop during the week ahead:
Nintendo Switch

ACA NEOGEO REAL BOUT FATAL FURY SPECIAL

BAFL – Brakes Are For Losers

Death Road to Canada – available April 25

Football Manager Touch 2018

Firefighters – The Simulation – available April 24

Firefighters: Airport Fire Department – Available April 24

Gal*Gun 2 – Available April 24

Manticore – Galaxy on Fire

Neo ATLAS 1469

Party Trivia

Shelter Generations

Skee-Ball

South Park: The Fractured But Whole – available April 24

Stikbold! A Dodgeball Adventure Deluxe – Demo Version

Super Chariot – Demo Version

Super One More Jump – Demo Version

The Way Remastered – available April 20

Where Are My Friends? – Available April 25

Wild Guns Reloaded

Nintendo 3DS

Cycle of Eternity: Space Anomaly

Nintendo Wii U

Aqua Moto Racing Utopia
So, as you can see from the list, it's a fairly quiet week unless you happen to be playing on Switch. Not only that, but many of these Switch eShop titles won't be launching until later in the week, with April 24 in particular being a day to look forward to. Are you going to pick up South Park: The Fractured But Whole on the Switch? Head down to the comments section and let us know!