Nintendo Switch Mario Tennis Aces bundle heads to Walmart next month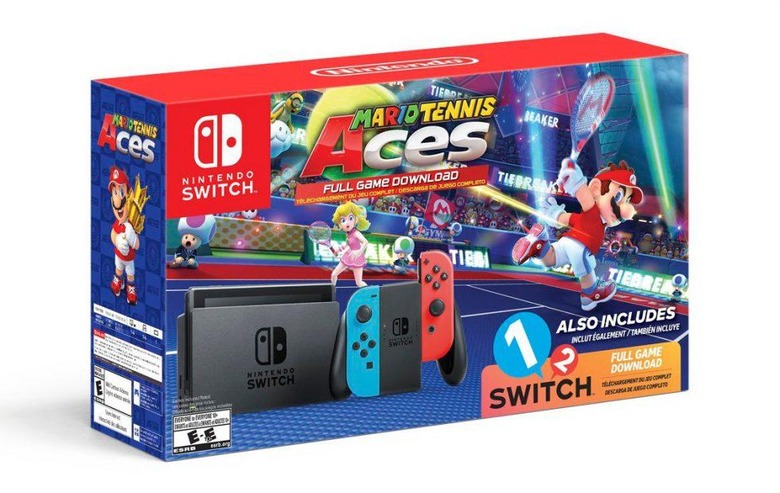 We haven't seen a ton of different console bundles in the Switch's short lifespan so far, but today Nintendo announced a new one. This bundle is destined for Walmart, where it will be an exclusive beginning next month. It offers some decent value for the money as well, assuming you're interested with the games it comes packed with.
Nintendo revealed this bundle on Twitter earlier today, and it positioned the new bundle as a way to "start your holiday shopping extra early." We're smack in the middle of August, so maybe it's a little too early to start thinking about that, but you have to respect Nintendo's devotion to those big holiday bucks.
In any case, the bundle comes with a Switch console with neon red and blue Joy-Cons, along with download codes for Mario Tennis Aces and 1-2-Switch. 1-2-Switch is a game that people don't really talk about anymore, but back when the Switch launched, it was one of the only games available. It always felt like a game that should have come bundled with Switch consoles anyway (like Wii Sports), so it looks like Nintendo is starting to figure that out.
The bundle will cost $359, which essentially means that you're getting the copy of 1-2-Switch for free. That isn't a bad deal if you're interested in the mini-games 1-2-Switch has to offer, and at the very least, it's a free game so it's not a huge deal if you play it once and then never touch it again. 1-2-Switch is a pretty solid choice for a party game, though, so it might be nice to have a copy on hand.
This bundle will arrive at Walmart stores across the US on September 5. Given the fact that Nintendo is advertising this as a holiday gift, we can probably expect it to be available through the end of the year, but the company didn't say whether or not this will be a limited-time offering.