Nintendo Shows Off Animal Crossing Switch Console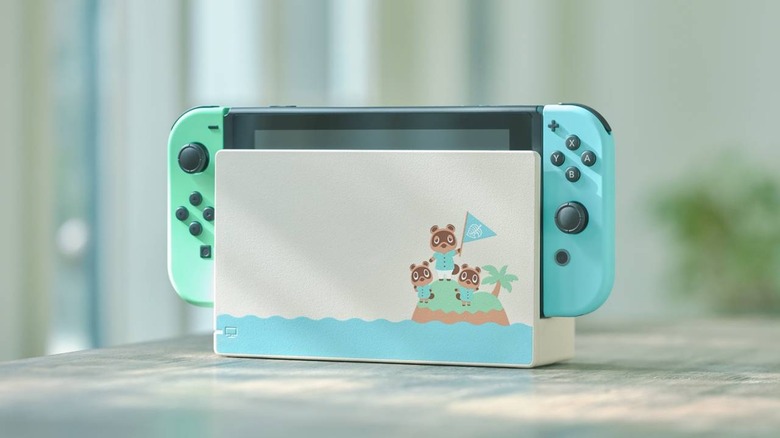 Animal Crossing: New Horizons is one of the Switch's biggest games of the year, so it didn't really come as much of a shock to see Nintendo reveal a limited edition Switch console for the game. The console hasn't released yet – and won't for another month – but today Nintendo is giving us a closer look at it by way of a new unboxing video.
As revealed at the tail-end of last month, the Switch comes with special pastel green and blue Joy-Cons that you presumably won't be able to buy separately (sorry, Joy-Con collectors). Those controllers have a two-color design, as they're white on the back while the straps are standard black.
On the back of the console itself, you'll find silhouettes of multiple Animal Crossing characters. Those silhouettes are a fairly common sight among these limited edition Switch packages, and they tend to be the extent of the design Nintendo puts on the console. Finally, the Switch dock ties the whole design together, with Tom Nook and the Nooklings waving the New Horizons flag on an island of their own.
Strangely enough, this Switch package doesn't actually come with the game. You'll need to buy Animal Crossing: New Horizons separately if you want to play it on your fancy new Switch. Those who already have a Switch will be able to pick up a New Horizons Aloha Edition carrying case and screen protector to give their consoles a bit of Animal Crossing flair.
This limited edition Switch launches on March 13th, a week before the game releases on March 20th. It'll cost $299.99 when it arrives, which is the same price as a standard Switch. The game, meanwhile, will run $59.99.