Nintendo Sells 1.5 Million Consoles Over Black Friday Week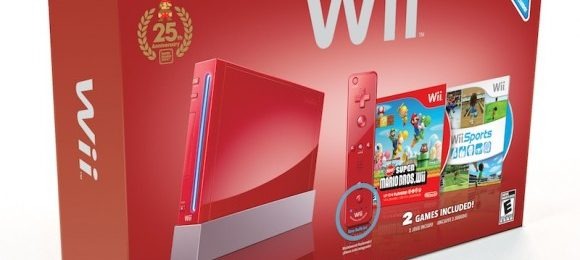 While Black Friday is over and done with, and we're knee-deep in the savings that come with Cyber Monday, it looks like Nintendo made a killing off the Black Friday week. They sold plenty of consoles, which include members of the DS family, as well as the Wii home console. They sold enough, in fact, that the company feels like a formal press release is the right thing to do. Some may call this bragging, but then again, when you've sold as many consoles as Nintendo did, there might be a little room to do that.
The company sold 1.5 million consoles over the week, and thankfully Nintendo was nice enough to break it down for us, in their press release. When it came to the Wii home video game console, consumers managed to pick up 600,000 of them. As for the DS line-up of portable gaming consoles, consumers managed to purchase 900,000 of those over the week. If you're curious, that means that people were buying 9,000 Nintendo-branded video game consoles every hour, of every day, throughout the Black Friday week. You can check out the full press release below.
Press Release
CONSUMERS SNAP UP 1.5 MILLION NINTENDO VIDEO GAME SYSTEMS DURING BLACK FRIDAY WEEK

Value-Minded Shoppers Purchase 900,000 Nintendo DS and 600,000 Wii Systems

REDMOND, Wash., Nov. 29, 2010 – When confronted with a wide range of Black Friday retail options, U.S. holiday shoppers again turned to Nintendo. Nintendo sold 900,000 combined units in the Nintendo DS™ family of systems and 600,000 Wii™ consoles between Sunday, Nov. 21, and Saturday, Nov. 27, according to the company's internal sales estimates.

"U.S. shoppers bought about 9,000 Nintendo hardware systems nonstop for every hour of every day during the week of Black Friday," said Nintendo of America President Reggie Fils-Aime. "For the past several years, consumers have decided that Nintendo defined both top value and all-inclusive entertainment, and that sentiment continues again at the start of this shopping season."

Nintendo's Black Friday surge was fueled by multiple new hardware colors, each of which comes bundled with games. The bundles provide a great value for shoppers who are looking to get the biggest bang for their video game bucks. These bundles, all of which are available while supplies last, include:

Limited-edition Mario red Wii hardware in honor of the 25th anniversary of the Super Mario Bros.™ game on the NES™. It includes a new red Wii system, a red Wii Remote™ Plus controller, a red Nunchuk™ controller, and games New Super Mario Bros.™ Wii and Wii Sports™ at a suggested retail price of $199.99.

A limited-edition red Nintendo DSi XL™ bundle in honor of the 25th anniversary of the Super Mario Bros. game on the NES. It features a Mario red Nintendo DSi XL system with three iconic Super Mario Bros.-themed graphics, the Mario Kart™ DS game and preloaded software, including Brain Age™ Express: Arts & Letters, Brain Age Express: Math and Photo Clock. It is available at a suggested retail price of $179.99.

Orange and green Nintendo DSi™ systems, which are bundled with the Mario Party™ DS game. They are available at a suggested retail price of $149.99.

In addition to the great hardware bundles, shoppers have dozens of great video game options for everyone on their shopping lists. Some exclusive games for the Wii console include Super Mario Galaxy™ 2, Metroid™: Other M, Wii Party™, Kirby's Epic Yarn™, PokéPark™ Wii: Pikachu's Adventure, FlingSmash™ (which comes bundled with the new Wii Remote Plus) and Donkey Kong Country™ Returns. Third-party Wii games include New Carnival Games® from 2K Play, NBA JAM from EA Sports, Just Dance® 2 from Ubisoft, Sonic Colors™ from SEGA, GoldenEye 007™ from Activision Publishing Inc. and Disney Epic Mickey from Disney Interactive Studios.

On the portable Nintendo DS family of systems, shoppers can choose games like DRAGON QUEST® IX: Sentinels of the Starry Skies™, Professor Layton and the Unwound Future™, Pokémon Ranger™: Guardian Signs, Art Academy™, Mario vs. Donkey Kong™: Mini-Land Mayhem! and Golden Sun™: Dark Dawn. Some key third-party Nintendo DS games include Super Scribblenauts™ from WB Games, Rock Band® 3 from MTV Games, GoldenEye 007 from Activision Publishing Inc. and Sonic Colors from SEGA.

About Nintendo: The worldwide pioneer in the creation of interactive entertainment, Nintendo Co., Ltd., of Kyoto, Japan, manufactures and markets hardware and software for its Wii™ home console and Nintendo DS™ family of portable systems. Since 1983, when it launched the Nintendo Entertainment System™, Nintendo has sold more than 3.5 billion video games and more than 577 million hardware units globally, including the current-generation Wii, Nintendo DS, Nintendo DSi™ and Nintendo DSi XL™, as well as the Game Boy™, Game Boy Advance, Super NES™, Nintendo 64™ and Nintendo GameCube™ systems. It has also created industry icons that have become well-known, household names such as Mario™, Donkey Kong™, Metroid™, Zelda™ and Pokémon™. A wholly owned subsidiary, Nintendo of America Inc., based in Redmond, Wash., serves as headquarters for Nintendo's operations in the Western Hemisphere. For more information about Nintendo, please visit the company's website at http://www.nintendo.com.