Nintendo Kid Icarus: Uprising AR cards revealed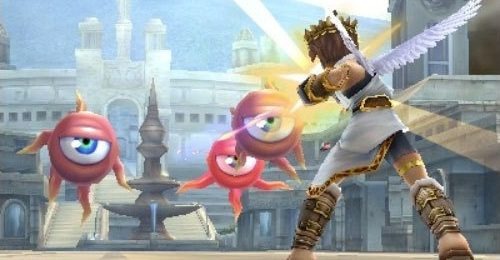 Nintendo has shed some light on an as-yet untapped subject for its upcoming 3DS game Kid Icarus: Uprising. The game will have a collectible trading card component to it, requiring players to go to special real-life events to get cards to unlock special content within the game. The cards will be able to be scanned into the game through the 3DS's camera and augmented reality technology.
The 3DS's augmented reality feature is used as a concept demo within the pre-loaded content that comes with the system, but so far hasn't really been expanded with any particular title. That will change with Uprising, which launches on March 23 and is one of the most anticipated 3DS titles of the year. The game will come with six random Kid Icarus cards, and it's up to players to get all the additional cards, which will be available through special events.
Special cards can be obtained as follows: users who are members of Club Nintendo will be eligible to receive three exclusive cards, available as of today. In addition, there will be cards distributed through various magazines including Game Informer and Best Buy's in-store publication @Gamer. GameStop stores throughout the country will be hosting a special play session on April 14 from 1 – 4 PM, where there will be more exclusive cards, and customers who happen to be in New York City can pick up a truly unique card at the Nintendo World Store at Rockefeller Center on launch day. And finally, various events like WonderCon in California this week, and PAX East in Boston in April will dole out special cards.
So this isn't just the kind of thing you can go to the store and pick up a bunch of booster packs to complete your collection. The idea is that no one person will probably be able to have every card. Other opportunities include pre-order bonuses and game tournaments to be scheduled in the future. Expect this to be a big new category on Ebay in the weeks and months to come. That is, assuming it sells well.