Nintendo details games, amiibo lineup for rest of 2015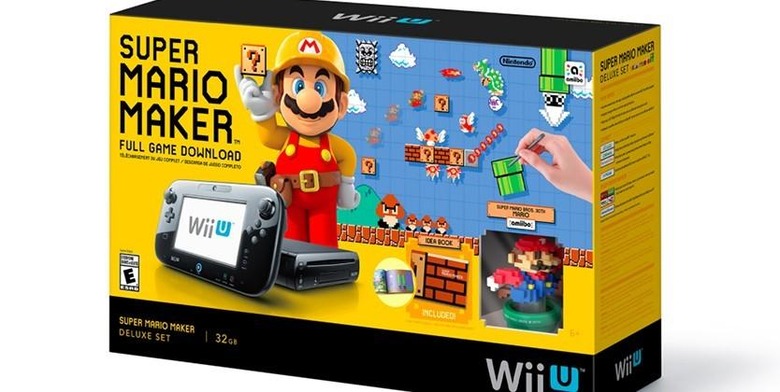 Nintendo has revealed its plans for the remainder of 2015, including the roster of games it has in the pipeline. Among the plans is a new exclusive Super Mario Maker Wii U bundle that will be offered through Walmart retail stores and online. The bundle will bring with it the game and Idea Book, as well as a 30th Anniversary Mario Modern Color amiibo. That bundle will be available starting September 11 for $299.96 USD. There will be several new amiibo figures and a slew of new titles, as well.
As far as the Wii U goes, Nintendo will be following the aforementioned bundle's launch with Yoshi's Woolly World on October 16 ($49.99 USD) alongside the Yarn Yoshi amiibo, which can be had as part of a bundle for $59.99 USD.
Also coming on the 16th will be a new a combo game pack with New Super Mario Bros U and New Super Luigi U for $59.99 USD. Following these will be Fatal Frame: Maiden of Black Water on October 22, Star Fox Zero on November 20, "Xenoblade Chronicles X" on December 4, and more.
The Nintendo 3DS will also, as expected, be getting a lot of attention, with six offerings in the pipeline. On September 20 gamers will get Skylanders SuperChargers Racing, September 25 will bring Animal Crossing: Happy Home Designer for $39.99, followed by Chibi-Robo! Zip Lash on October 9, The Legend of Zelda: Tri Force Heroes on October 23, YO-KAI WATCH's US release on November 6, and Pokemon Super Mystery Dungeon on November 20. Some time in October gamers will also get Shovel Knight for the 3DS.
Rounding it all out will be a three-pack Mii Fighters amiibo offering on November 1 for $34.99 USD, the Mewtwo amiibo from Super Smash Bros on November 13 for $12.99 USD, the Mega Yarn Yoshi on November 15 for $39.99 USD, and Falcon amiibo on November 20 for $12.99 USD.