Nintendo black "KURO" Wii and Red DSi confirmed for Japan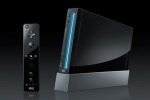 Nintendo have announced that they will begin selling a black Wii in Japan come August, shortly after their new red DSi goes on sale there in July.  The black console will be the first time the Wii has been available in a color other than white, though Nintendo did initially demonstrate it in various hues.
Accompanying the black Wii – which will be officially known as the KURO Wii – are matching black peripherals.  The red DSi will join the white, black, pink, lime green and metallic blue versions already available in Japan.
The Nintendo Red DSi will go on sale in Japan on July 11th, priced at 18,900 yen ($197).  Meanwhile the Nintendo KURO Wii will land in Japan on August 1st, priced at 25,000 yen ($260); the matching black Wii Remote, Nunchuk and Classic Controller Pro will be 3,800 yen ($40), 1,800 yen ($19) and 2,000 yen ($21) respectively.  No word on a US/European release.