Nintendo Black Friday 2019 Gives Mario Kart 8 Deluxe Switch Bundle Pole-Position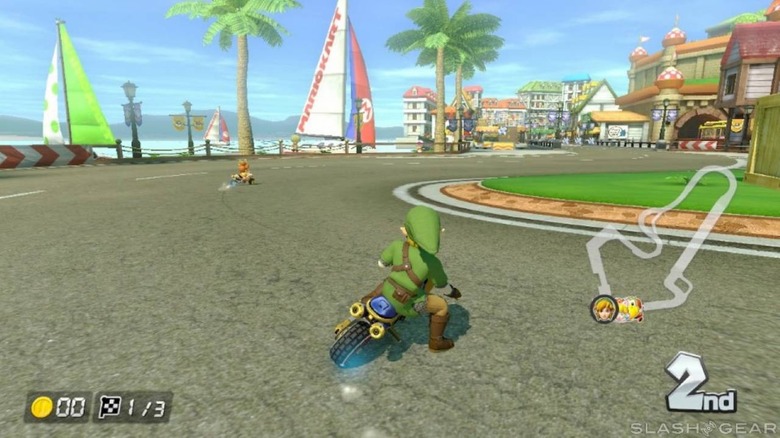 We're quickly closing in on Black Friday, which means that the holiday shopping season is about to kick into gear. Nintendo is getting out in front of much of the crowd by revealing its Black Friday deals a little early this year, with a Mario Kart 8 Deluxe Switch bundle acting as the headliner. As always, Nintendo won't be offering a ton of super deep discounts, but this could be a good chance to pick up some of the Switch's best games without having to pay full retail price.
As detailed in the table you see below, the Mario Kart 8 Deluxe bundle comes in at $299.99. At first blush, this doesn't really seem like a deal since the Switch normally costs $300, but the difference here is the game – since the Switch doesn't normally have a pack-in game, you're essentially getting Mario Kart 8 Deluxe for free here.
In addition to the Switch bundle, we'll also see discounts on Joy-Con pairs, which will be marked down to $59.99 ($20 off). Keep in mind that this only applies to gray and neon red/blue pairs, so you'll only be able to use this discount on a very limited selection of Joy-Cons. Rounding out the accessory discounts is a $30 mark-down on the Poke Ball Plus for Pokemon Let's Go Pikachu and Eevee, which will cost $20 during Black Friday.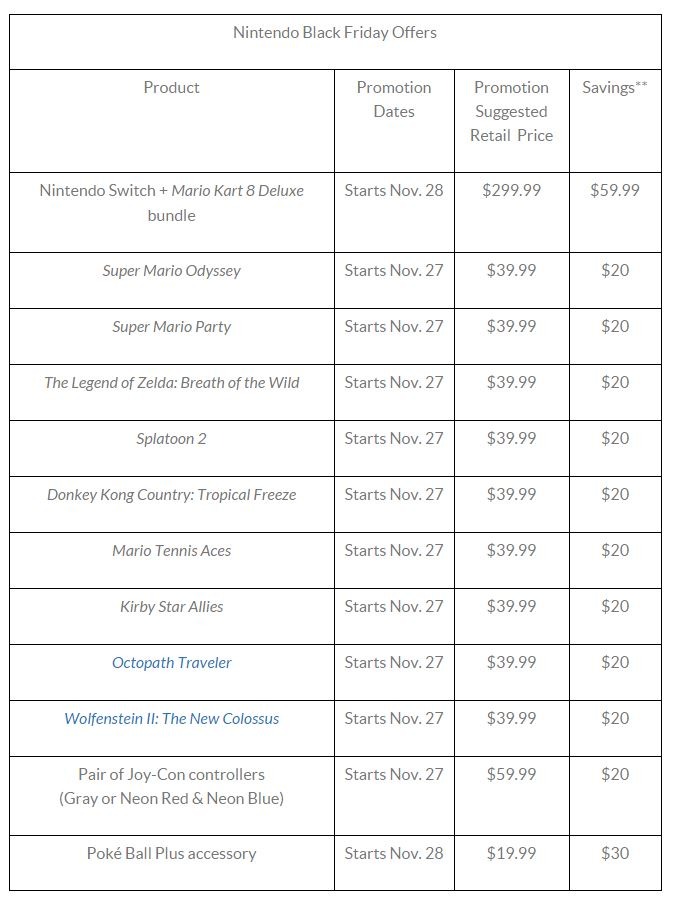 Finally, we come to the game discounts. There aren't a ton of discounts to be had, but there are a few noteworthy ones on the Switch's biggest titles. Super Mario Odyssey, Super Mario Party, The Legend of Zelda: Breath of the Wild, Splatoon 2, Donkey Kong Country: Tropical Freeze, Mario Tennis Aces, Kirby Star Allies, Octopath Traveler, and Wolfenstein II: The New Colossus will all be discounted by $20, bringing them all down to $40 each.
Amazon, Best Buy, Target, Walmart, and GameStop are the participating retailers for these Black Friday deals, but the Joy-Con discounts will only be available through Amazon, Best Buy, and Target. Nintendo isn't clear if the game discounts will also be available through the eShop, but we've reached out to the company for clarification and will update this post when we hear back.