Nintendo 3DS XL The Legend of Zelda: A Link Between Worlds bundle coming Nov 22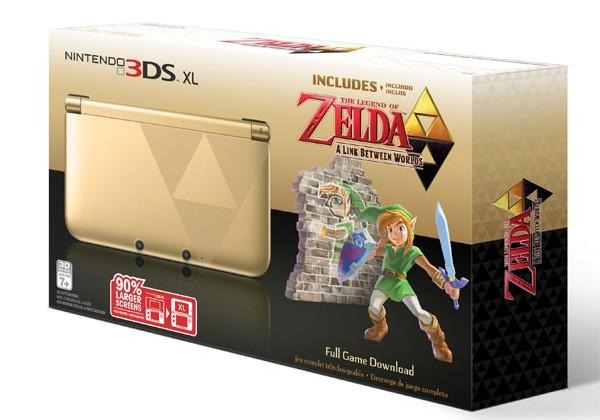 Nintendo has announced a new video game system bundle that will land just in time for holiday shopping. The new bundle will include the video game The Legend of Zelda: A Link Between Worlds set to launch on November 22. Nintendo will offer the video game in a special bundle with a customized 3DS XL game console.
The customized console included in the bundle will have gold and black coloring along with the Triforce from the game franchise on the exterior. The special edition 3DS XL will also include a free download code for the A Link Between Worlds game itself.
The console and game bundle will sell for $219.99. The video game itself takes place in the same world as The Legend of Zelda: A Link to the Past that launched on the Super NES back in the day. The game takes place in Hyrule after many years have passed from the original game.
Players will travel between the two worlds of Hyrule and Lorule using a special power that allows Link to become a drawing on walls. The ability to merge with walls allows the player to solve puzzles and explore dungeons in a new way. Players will also be able to purchase or rent items in the game allowing them to explore dungeons in various order giving a new freedom to the game.
SOURCE: Zelda.com