Nintendo has pushed word this week that they'll be continuing to create the Nintendo 3DS XL with an interesting twist: Mario and Luigi up top! This machine works the same as the original Nintendo 3DS XL, but in this case you'll find Mario and Luigi peering around the sides of the box and rolling through inside the machine itself as well. This design change will only exist in a special bundle package with a name reflecting the gold.
Supposing you've got a friend or colleague – or kid – in the market for a beastly yet relatively small gaming handheld this upcoming season, there's news from Nintendo this week that might very well light up your eyes. Here Nintendo reveals the Nintendo 3DS XL Mario and Luigi Dream Team Bundle with a lovely little gold outline of the duo running hot across the cover and the game Mario & Luigi Dream Team pre-installed.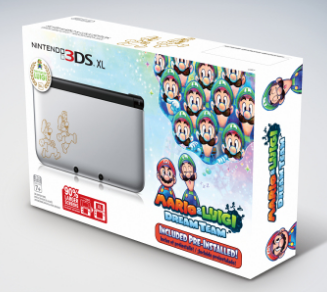 This silver edition of the machine works with a suggested retail price of $199.99 USD and will be joined by a blue version of the non-XL handheld. You'll find a Cobalt Blue Nintendo 3DS system appearing with Luigi's Mansion: Dark Moon pre-installed soon as well. This system will cost a cool $169.99 USD and will be released as soon as this week.
The same is true for a gold-and-black Nintendo 3DS XL system that'll be appearing with The Legend of Zelda: A Link Between Worlds download code and a suggested retail price of $219.99 – the release date of this version is unknown, but likely to appear soon! The limited-edition silver-colored Nintendo 3DS XL with Mario & Luigi will be appearing at retailers and online immediately if not soon – have a peek!