Ninja unsurprisingly dominated Twitch in 2018
Anyone who spends any amount of time on Twitch is likely aware of the platform's biggest streamer, Tyler "Ninja" Blevins. Ninja switched the focus of his stream to Fortnite late in 2017, and that was a decision that paid dividends throughout 2018. While no one will be surprised to hear that Ninja had a good year, a new report is showing us just how good of a year it was.
As it turns out, people spent a lot of time watching Ninja's stream this year. The eSports Observer reports that Ninja racked up a ridiculous 226.85 million hours watched throughout the year, putting him in first place by more than a comfortable margin. Of course, along with an increase in total viewership came a dramatic rise in Ninja's number of subscribers, who each pay at least $5 per month to participate in Ninja's Twitch chat and unlock subscriber-only emotes that can be used across the platform.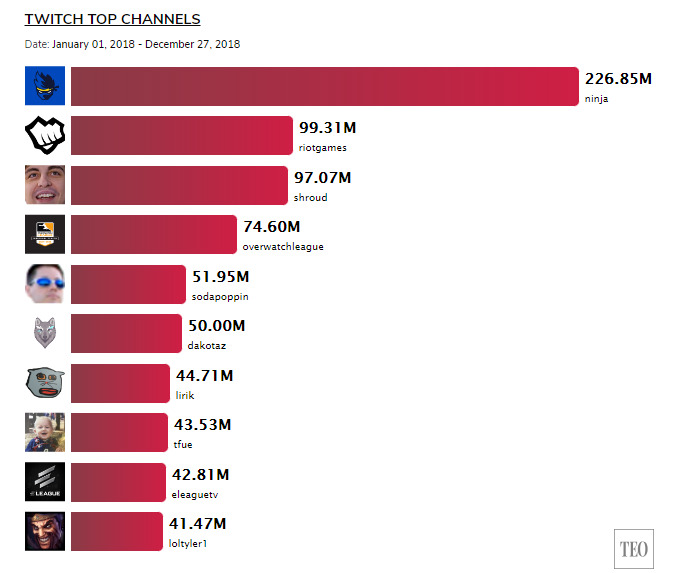 While TEO's report doesn't give us any statistics on subscribers and is limited to total view time throughout the year, it still gets the point across – 2018 was the year that Ninja took over Twitch. In fact, he's finishing the year with more hours watched than the second and third place finishers – Riot Games and Shroud, respectively – combined.
Last year, Summit1G had the first place spot with 72.45 million hours watched, about 11 million hours more than second-place finisher Lirik. The rankings for 2018 show us that Twitch viewership in general was on the rise throughout the year, and TEO notes that a lot of that growth is thanks to Fortnite. Many of the top 10 most-viewed streams regularly play Fortnite, though there are certainly a few on the list (such as Lirik and Sodapoppin) who don't claim it as their main game.
It'll be interesting to see what happens as we move through 2019, in particular because Fortnite seems to be growing more popular by the day. Whether or not that momentum keeps up for the next year will definitely be something to watch, along with what effect a change in Fortnite's popularity will have on total Twitch viewership. Regardless of what happens, 2019 should be a big year for Twitch, so stay tuned.