Nikon updates budget Coolpix with a trio of L-series digicams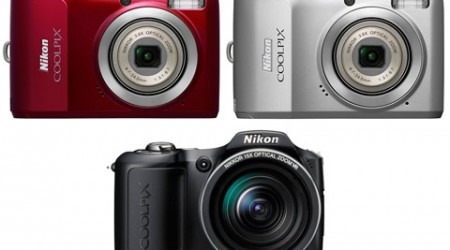 Announced today is the newest Nikon's Coolpix budget lineup featuring 3 affordable L-series digital camera with varies image sizes from 8 to 10mp and optical zoom from 3.6x to 10x.
The Nikon L100 is not entirely a budget Coolpix but an affordable version of Coolpix's P90. It packs a 10 megapixel image sensor, 15x optical zoom lens with 28-420mm( 35mm equiv.), CCD shift stabilization, and a 3.0" LCD display without optical viewfinder. It also has the same Smart Portrait system as the P90, as well as the 4-ways VR image stabilization features and can shoot up to 30fps video in VGA size. Priced at about $280, the Nikon Coolpix L100 will ship from April 2009.
The Next two are basic Coolpix with 3.6x optical zoom lens. The Coolpix L20 captures 10Mp images and has a 3.0" LCD display while the Coolpix L19 manages 8MP captures with a smaller 2.7-inch LCD. Both feature Nikon's Smart Portrait System and video recording function of up to VGA size at 30fps.
The Nikon Coolpix L19 (available in deep silver) and L20 (available in deep red) will ship from February 2009 for $110 and $130, respectively.
stores its images on SD / SDHC cards or in 20MB of built-in memory, and draws its power from two AA batteries. Priced at about $130, the Nikon Coolpix L20 will ship from February 2009 in deep red. For more details read our Nikon L20 preview.
Nikon CoolPix L100

* Large, bright 3.0-inch high-resolution LCD with anti-reflection coating for easy composition and reviewing of images.

* New Sport Continuous Scene Mode for shooting at up to 13fps (up to 30 frames when consumers set the resolution to 3MP or lower). This high-speed capture setting helps photographers stay ahead of the action, whether on the football, baseball or soccer fields.

* 4-Way Vibration Reduction (VR) Image Stabilization

o Optical VR image stabilization compensates for the effects of camera shake by moving the image sensor, producing clearer, sharper results in lower lighting or unsteady conditions.

o Motion Detection automatically detects moving subjects and adjusts shutter speed and the ISO setting to compensate for camera shake and subject movement.

o High ISO 3200 capability creates new opportunities to take sharper, more natural-looking photos in lower light conditions.

o Nikon's original Best Shot Selector (BSS) automatically takes up to 10 shots while the user presses the shutter, and saves the sharpest image.

* Smart Portrait System, which integrates the following to make it a snap to capture stunning portrait photos of friends and family:

o In-Camera Red-Eye FixTM, which automatically fixes most instances of red-eye.

o Enhanced Face-Priority AF, which can detect up to 12 faces from a variety of angles, including straight on, from the side, or even in a multitude of three-quarter positions.

o Smile Mode, which automatically detects when your subject smiles and releases the shutter.

o Blink Warning, which displays a warning message, should the camera detect that the subject has blinked.

COOLPIX L20 and L19

Nikon complements the L100 with two new cameras that successfully blend features and price to create a strong value proposition. The L19 (8.0 megapixels) and L20 (10 megapixels) cameras leverage proven Nikon innovations, including NIKKOR Glass Lenses, EXPEEDTM Digital Image Processing concept, Smart Portrait System, Motion Detection and Easy Auto Mode with Scene Auto Selector. These features combine to create digital compact cameras that combine high performance with outstanding operating ease.

The design of the L19 and L20 cameras complement Nikon's technology innovation to offer ease-of-use, versatility and portability. For example, the large high-resolution 3.0-inch (L20) and 2.7-inch (L19) LCD monitors offer a bright image that consumers can easily view, even outdoors. The cameras also include dedicated buttons on the top of the body, which make it easy for consumers to switch between shooting and playback modes, as well as contours on the large thumb rest and the body itself to ensure a solid grip. Finally, the cameras are powered by (2) AA-batteries, available anywhere.

The L20 will be available in Deep Red beginning February 2009 and will retail for $129.95. The L19 will be available in Bright Silver beginning February 2009 and will retail for $109.95.