Nikon COOLPIX S80 14.1MP camera gets OLED touchscreen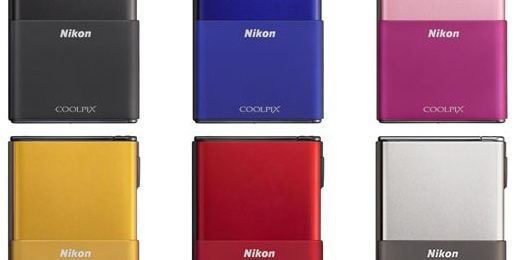 Nikon's third and final new camera of the morning is the Nikon COOLPIX S80, a 14.1-megapixel point and shoot with a 5x optical zoom and a 3.5-inch OLED touchscreen for control and settings.  Just 16.5mm thick, the S80 records 720p HD video and you can even annotate and draw on top of stills.
There are also various preset shooting modes, including digital effects, a 7cm macro mode and an ISO range of 80, 100, 200, 400, 800, 1600, 3200 and 6400.  An HDMI connector makes viewing shots and footage straightforward, while SD/SDHC/SDXC memory cards can be used.
The Nikon COOLPIX S80 will arrive sometime this fall, priced at $329, in black, blue, pink, gold, red or silver.
Press Release:
Digital Compact Camera Nikon COOLPIX S80

A roughly 16.5-mm slim body with a widescreen 3.5-inch OLED monitor, the fun and stylish model that takes vivid photos with easy touch operations

TOKYO – Nikon Corporation is pleased to announce the release of the S80, a COOLPIX S-series model that incorporates advanced touch panel functions in a stylish design

The S80 is equipped with a widescreen 3.5-inch electrostatic OLED touch panel with a wide viewing angle. Compared to the Approximately 288k-dot monitor built into its predecessor, the COOLPIX S70, the S80 monitor offers resolution increased to approximately 819k-dots. Performance has also been greatly increased for more natural operation with a more vivid monitor display and faster response to touch panel operations. In addition, the S80 is equipped with a variety of Nikon technologies, including a monitor with an incorporated touch mechanism, which is an on-cell touch panel, and a thin right-angled optics zoom lens, which help to make the 16.5-mm slim camera more compact and portable. The S80 is a stylish compact digital camera with an extremely functional design.

COOLPIX S80 Primary Features

1. Effective pixel count of 14.1 million pixels and a 5× optical zoom NIKKOR lens

Approximately 819k-dot widescreen 3.5-inch (full-wide VGA) electrostatic OLED touch panel monitor with wide viewing angle adopted for intuitive operation and clear and vivid display of even the finest details

(1) High-resolution monitor

The camera is equipped with an approximately 819k-dot widescreen 3.5-inch OLED touch panel monitor with a wide viewing angle. The high-resolution full-wide VGA OLED monitor makes shooting, viewing and sharing photos more enjoyable.

The OLED (Organic Light-Emitting Diode) monitor directly expresses the strength of lighting and clearly reproduces dark portions in photos of night landscapes and the like with high contrast

With a display gamut roughly 150% that of the sRGB color space, photo display is clear and vivid down to the finest details

The 180° wide viewing angle enables clear viewing of the monitor display from nearly any angle

(2) Touch panel with faster response for more intuitive operation

Adoption of a new integrated circuit (IC) for faster processing allows the S80 to respond faster to touch panel operations than its predecessor, the S70. The electrostatic touch panel keeps up with touch panel operations for a more natural and intuitive feel. Just as with the S70, the majority of camera operations can be performed via the touch panel. For example, the touch shutter function can be used to focus and set exposure with shooting, and two-finger operations can be used with image playback to zoom in or out on a photo or to scroll ahead several photos, enabling shooting, playback and image editing using simple touch panel operations.

2. A 16.5-mm slim body with a simple design loaded with advanced shooting functions

Slim body

The S80 incorporates a number of Nikon technologies that enable basic camera performance and natural operation in a 16.5-mm slim body with a stylish design. The slim body was achieved with the adoption of a thin right-angled optics zoom lens and an on-cell touch panel, which is a monitor that incorporates the touch panel mechanism within the display rather than outside of it.

Simple design

Design of the S80 has been simplified as much as possible by incorporating the power switch into the slide cover and reducing operational controls to the shutter-release button for a body that is extremely flat and even all around. Great attention has been paid to the color and feel of the S80. The dual-texture design combines a shiny aluminum coating with a silky rubber coating to give the camera an elegant look and feel. The overall design is one that users will continue to appreciate for a long time.

3. A variety of Nikon image editing functions that make the most of touch panel operations

Six filter effects and "Glamour retouch," which applies adjustments to faces detected in images, are available for editing images without using a computer. Images to which effects have been applied are stored separately from original images, enabling editing of the same image in a variety of ways.

6 filter effects

(1) Color options

Modifies color tones.

(2) Soft

Emphasizes the subject by blurring the area surrounding the point that is tapped.

(3) Selective color

Keep one specified color in the picture and change other colors to black and white.

(4) Cross screen

Produce star shapes with lines radiating outward from bright objects such as reflected sunlight or city lights.

(5) Fisheye

Make pictures look as if they were taken with a fisheye lens.

(6) Miniature effect

A diorama effect is created by sharpening the center of the image and blurring portions at the top and bottom of the image.

Soft

Cross screen

4. New user interface that makes the camera easier to use with more intuitive operation

Setting controls can be displayed by simply tapping tab graphics displayed in the monitor with shooting and playback. As information and important points are displayed, operation is smoother and function selection is simpler. In addition, a new rating function that allows users to rate pictures with up to five stars and sort pictures to folders according to their rating has been adopted. What's more, when the camera is rotated for vertical shooting, display tabs and controls also automatically rotate 90° in the direction in which the camera was rotated for smoother shooting.

5. Stereo HD movie function that faithfully records exciting and memorable scenes

1280 X 720-pixel HD movies with stereo sound can be recorded. In addition to up to 5X optical zoom capability during movie recording, the S80 has been equipped with an HDMI mini connector that enables high-resolution playback of still images and movies on large screen high-definition TVs.

Nikon COOLPIX S80 Specifications

Effective pixels: 14.1 million

Image sensor: 1/2.3-in. type CCD; total pixels: approx. 14.48 million

Lens: 5X optical zoom, NIKKOR lens, 6.3-31.5mm (angle of view equivalent to that of 35-175 mm lens in 35mm [135] format);

f/3.6-4.8; Digital zoom Up to 4X (angle of view equivalent to that of approx. 700 mm lens in 35mm [135] format)

Focus range (from lens): [W]: Approx. 30 cm to ∞ ,

[T]: Approx. 50 cm to ∞ ,

Macro mode: 7 cm to ∞ (wide-angle zoom position)

Monitor: 8.7 cm , widescreen, OLED (touch panel) with antireflection coating, approx. 819k-dot, 5-level brightness adjustment

Storage media *1: Internal memory (approx. 79 MB), SD/SDHC/SDXC memory card

ISO sensitivity: ISO 80, 100, 200, 400, 800, 1600, 3200, 6400

Auto (auto gain from ISO 80 to 800),

Fixed range auto (ISO 80 to 200, ISO 80 to 400)

Interface: Hi-Speed USB

Power sources: One EN-EL10 Rechargeable Li-ion Battery (supplied)

AC Adapter EH-62D (available separately)

Battery life *2:

(EN-EL10) Still pictures: Approx. 150 shots

Movies: Approx. 1 h 5 min (HD 720p (1280 X 720))

Dimensions (WxHxD): Approx. 98.8 X 62.6 X 16.5 mm (excluding projections)

Weight: Approx. 133 g (including battery and SD memory card)

Supplied accessories *3: Camera Strap, Rechargeable Li-ion Battery EN-EL10,

Charging AC Adapter EH-68P,USB Cable UC-E6,

Audio Video Cable EG-CP16, ViewNX 2 CD-ROM

Unless otherwise stated, all figures are for a camera with a fully-charged

Rechargeable Li-ion Battery EN-EL10 operated at an ambient temperature of 25°C (77°F).

*1

Not compatible with Multi Media Cards (MMC).

*2

Based on Camera and Imaging Products Association (CIPA) standards for measuring the life of camera batteries.

*3

Supplied accessories may differ by country or area.