Nikon Coolpix L620 introduced with 18MP sensor and high-power zoom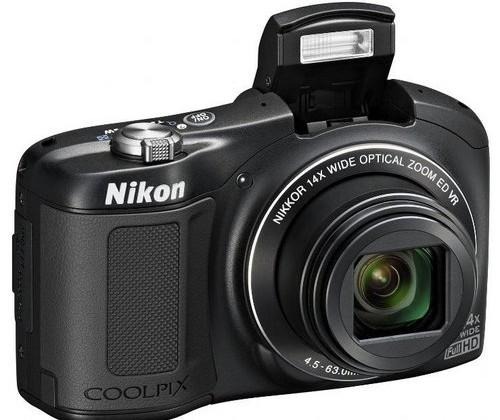 In addition to the hinged LCD-harboring S6600 Coolpix that was announced earlier this evening, Nikon has also introduced its new Coolpix L620, a high-power zoom compact with 14x optical zoom and a backside-illuminated 18.1-megapixel CMOS sensor. The camera will be available in two different colors: black and a red wine type of color.
As far as lens goes, the Coolpix L620 uses a NIKKOR lens with integrated lens-shift vibration reduction, spanning from a wide-angle 25mm to telephoto-equivalent 350mm. The macro mode is a bit more robust than the S6600, however, able to near an object as close as "approximately" a centimeter. The backside-illuminated sensor, as well as noise reduction implementations, aims to make low-light and night shooting possible.
The video recording mode is similar to that of the S6600, offering up to 1920 x 1080/60i with stereo sound. There is likewise a dedicated recording button, and the video can be played back at half-speed slow motion or double-rate for faster than normal speed. There's an HDMI port for playback on an HDTV or monitor. As for the camera itself, it is designed with a textured grip and a metal chassis.
The software is a combination of modes and filters accompanied by Target Finding AF and Easy Auto mode for optical mode selection that happens automatically. There are six functions, among them being six Special Effects, which are pre-shooting options for adding effects to content. There are also eight Filter Effects for post-shooting effects that can be applied to photographs and such with the camera.
Wrapping all this up is red eye correction, which can be applied to up to a dozen people and a handful of cats and/or dogs. The camera runs on AA batteries rather than a proprietary battery. Nikon will be launching the Coolpix L620 next month for a solid $249.95.
SOURCE: Nikon