Nikon Coolpix Extreme, a concept camera inside the mind of an artist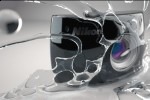 Nikon didn't showcase any all-weather tough camera at PMA 2009 this year, in fact, there isn't one but a splashproof, basic sealing Coolpix S2 in the past. This tough Coolpix you about to see is a concept, a designer piece from Yakon Design by artist Camillo Vanacore.
Inside the imaginary mind of Vanacore, the all-weather, all-terrain extreme coolpix is featured with shockproof, dustproof and waterproof glossy outfit. Not the traditional tough camera we are accustomed to with metal brushed finishes in mucho chassis. Also, the camera front has curved body and back panel is loaded with basic button-menu and a large chunk of LCD screen.
Sporty attitude yet sexy as hell to look at, don't you think? May be Nikon should grab this concept for its first entry in tough camera market.
[via Yanko Design]