Nike+ iPod nano 5G heart rate monitor tipped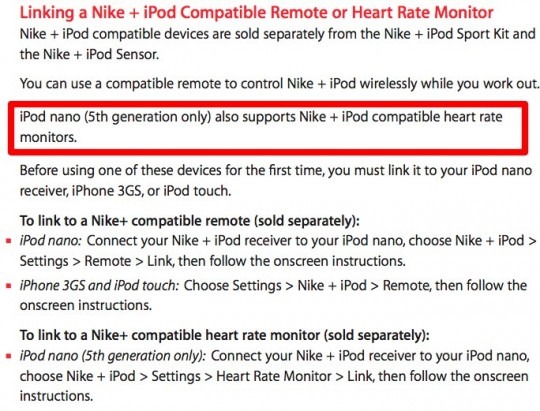 A Nike+ iPod user guide posted to Apple's site [pdf link] has tipped an upcoming Nike+ receiver for the new, camera-toting iPod nano 5G.  According to Apple Insider's sources, Apple intended to announce the receiver at their event earlier this week, but unspecified issues have caused it to be delayed for an unknown length of time.
While the video recording capabilities of the iPod nano 5G are creating the most headlines, the new PMP also has an integrated pedometer for sports use.  According to the Nike+ user guide Apple have published, only this fifth-generation nano will be compatible with the upcoming receiver – sold separately from the iPod itself – and it will use the pedometer to keep track of steps and track milestones such as running distances.
Other features of Nike+ on the nano will include listening to the FM radio now integrated with the PMP, playing "PowerSong" playlists and reviewing workouts.  Any Nike + iPod compatible gym equipment will also transmit its data to be incorporated into the fitness review, which will flag up steps, cardio workout results and calories burned, among other things.
[vms 305ca9ad266f53bc8251]