Nike Hyperadept "self-tightening" shoes coming next month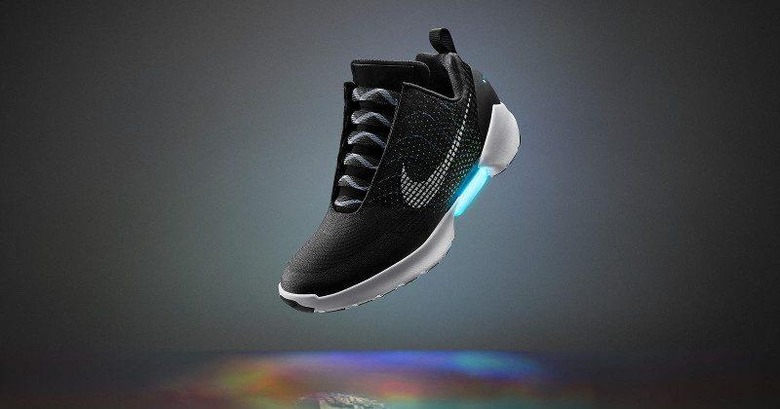 The holidays are fast approaching and if you're still thinking of the perfect gift to give a geeky, or at least pop culture savvy, friend, then Nike might have just the thing. Although we are still sadly still years away from the self-lacing shoes inspired by Back to the Future, the sports brand is offering the next best thing: shoes that can at least tighten themselves. And you won't have to wait years to get them either, as the Nike Hyperadept 1.0 pair will reportedly be out in the market in just a few weeks.
The Hyperadept 1.0, which was announced just back in March, is actually a more affordable consumer version of the Nike MAG, a limited, and expensive, edition of McFly's shoes from the film. The MAG idea has been around for quite a few years now, forever teasing fans, before finally becoming available late last year. With the Hyperadept, that dream will also become reality for more people. Somewhat.
The shoes have laces but they don't time themselves. They're already set in place, in fact. The magic, or science rather, is how these laces tighten themselves whenever you put the shoes on. When you put them on for the first time, though, you'll have to let it learn your comfy setting by simply pressing two buttons. Afterwards, you can let it do all the work for you.
Hi-tech shoes like these will undoubtedly have a high price, right? In fact, it was believed that the pair would cost $1,000. While some might actually be willing to pay that for a piece of history, it just won't sell, literally even, for consumers. Fortunately, that price might actually just be a huge misunderstanding.
Instead, according to rapper and actor Jacques Slade, the Nike Hyperadept 1.0 will actually cost only $720. Still pricey, but a huge price cut nonetheless. And best of all, it's already coming 1st December, just two weeks more of waiting.