Nightingale blankets your bedroom in customized white noise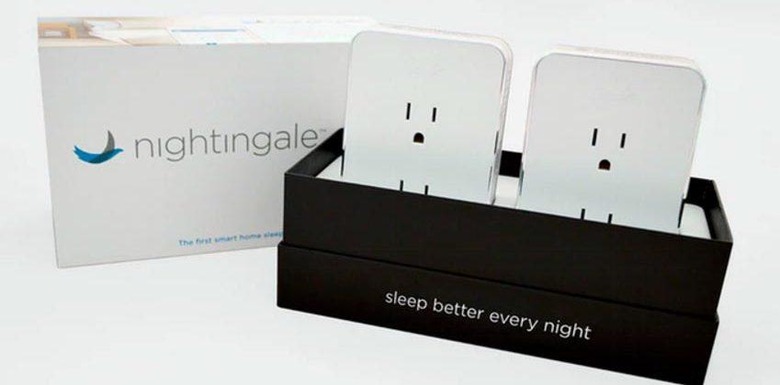 A new product called Nightingale aims to eliminate your nighttime disturbances using a 'blanket' of sound that drowns out unwanted ambient noises and things like tinnitus without disturbing your sleep. The company behind the product, Cambridge Sound Management, bills the device as a smart home sleep system — one that involves two components, each that plug into a wall outlet in your bedroom. The devices can produce 15 different sound 'blankets' for different scenarios.
Check out the video below to get an idea of how it works — essentially you have two devices that plug directly into wall outlets. The devices then blanket the room in white noise that is tailored to the specific room type, such as whether it is constructed from wood, has carpet flooring, its type of windows, and more.
Each of the wall units feature two speakers for a total of four speakers blanketing the room. As well as playing a single unified sound, the devices can also play two different sounds. The devices are controlled over WiFi using a related app for Android and iOS; it supports things like Alexa, Nest, Ring, and Philips Hue.
Cambridge Sound Management is seeking funding for the device on Kickstarter, where it raised about a quarter of its $100k goal with 27 days remaining. Those interested can pledge $149 USD or more for an early bird special unit, which is comprised of a single box containing two of the Nightingale units. Shipping for these is estimated to start in February 2017.
SOURCE: Kickstarter