Nighthawk XRM570 Pro Gaming mesh router wages war on lag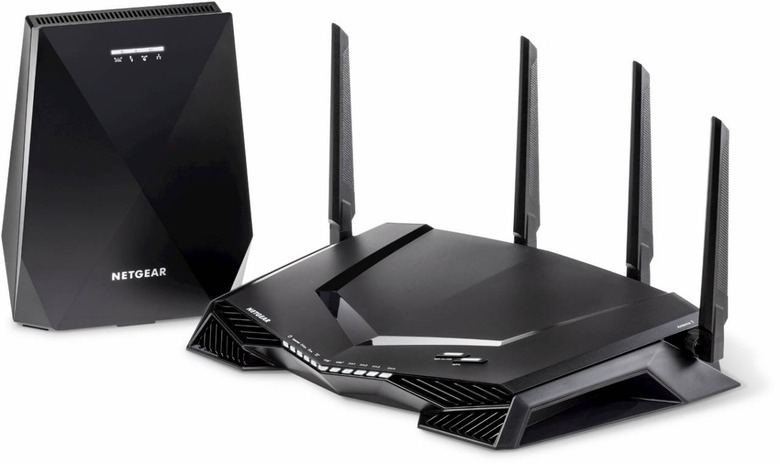 Netgear today announced its latest in a long line of gaming routers, the Nighthawk Pro Gaming Mesh WiFi system (XRM570). As the name suggests, the XRM570 is a mesh networking system that's designed to help you get a reliable WiFi connection throughout your entire house. That should make this ideal for online gaming when you can't run an ethernet cable to your gaming PC or console, but that's assuming you can stomach the XRM570's hefty price tag.
In the box, you'll find two components to the XRM570: a Nighthawk Mesh EX7700 tri-band WiFi extender and the Nighthawk Pro Gaming XR500 router. Those two devices come pre-paired, so Netgear says the process of getting your WiFi network up and running is at least fairly quick and painless.
The XR500 is a dual-band router (2.4 and 5GHz) that's equipped with a 1.7GHz processor and Netgear's DumaOS dashboard. It's on that dashboard that you can enable features like geo filtering, hybrid VPN, and quality of service, which lets you prioritize your network traffic to avoid lag spikes while playing games online. You can also use the dashboard as a network management tool to throttle some connections or block others entirely.
Netgear also says that the XRM570 system will work to minimize (or at least stabilize) ping using Anti-Buffer Bloat. The WiFi extender, on the other hand, offers up "a dedicated back-channel for high-speed data flow," while the system as a whole uses a feature called Smart Roaming to make sure that mobile devices are tapped into the strongest connection as you move through your house.
That feature set sounds pretty cool, but as always, there's a price to pay. For the XRM570, that price is $399.99 – probably more than most gamers are willing to spend on a router. Still, if you like what Netgear is laying down with this release, you can pick up the Nighthawk Pro Gaming Mesh WiFi system today from the company's website.