Nielsen reports app downloads surge 28%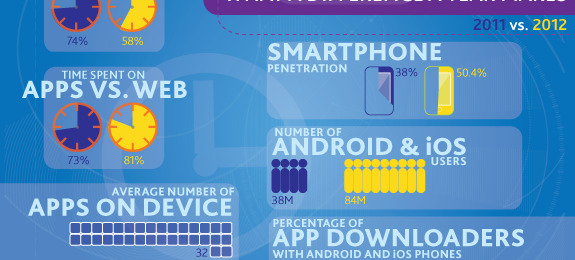 Market research firm Nielsen has posted an infographic that reveals a major surge in smartphone use and app downloads over the past year. And indeed what a difference a year makes as smartphone adoption has jumped up to 50.4 percent, up from 38 percent, and the number of Android and iOS device users have more than doubled from 38 million to 84 million.
With half of the US population now using smartphones, app downloads have also grown. The average number of apps per smartphone has jumped to 41 apps from 32 apps, up 28 percent. And of the users who downloaded apps within the past 30 days, 88 percent of them are Android and iOS users.
Additionally, users are not only downloading more apps, they're also spending a bit more time using apps instead of the mobile web browser. On average, users spend about 39 minutes a day using apps versus 37 minutes the year before.
What hasn't changed is that the top five apps are still Facebook, YouTube, Android Market, Google Search, and Gmail. Users also still express concern over privacy issues with 73 percent of users wary about personal data collection and 55 percent concerned about sharing location information via their smartphone apps.
[via Nielsen]