Nielsen 2012 recap puts Android and iOS on top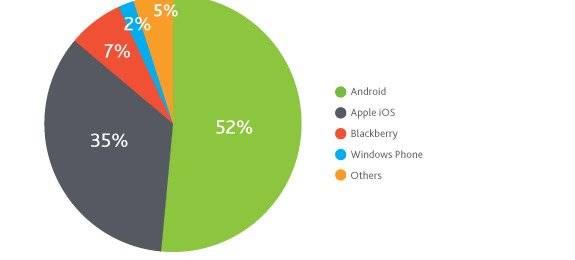 This week the folks at analyst group Nielsen have released their "Tops of 2012: Digital" list and have found Android and Apple's iOS battling it out for top US Smartphone operating system to the supreme surprise of no-one – it's the fact that BlackBerry still commands 7% of the market that's most striking. The main chart from this Neilsen report shows Android in the clear lead with 52% of the market in Nielsen's third quarter of 2012 with Apple's iOS coming in with 35% of the market on the iPhone.
This first set of statistics rounds off with BlackBerry and Windows Phone being the only other mobile operating systems with enough of a presence to warrant mentioning. BlackBerry comes in with 7% of the market and a wish for a return to prominence in 2013 with their January 30th reveal of BlackBerry 10, their next-generation operating system for smartphones. Meanwhile Windows Phone still sits on the low end of the spectrum with 2% of the market in the USA.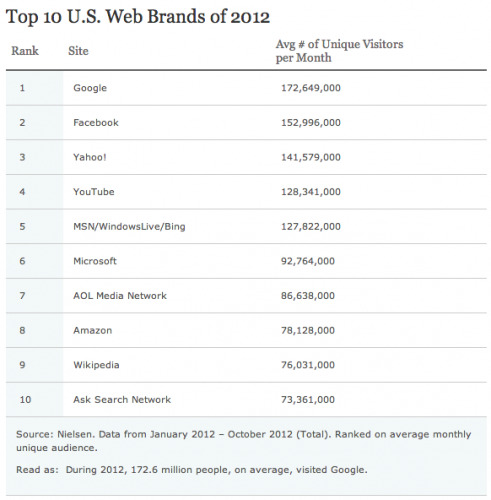 Nielsen also charted out the top "Web Brands" of 2012, this considering brands that make cash from the web as opposed to simply having a web presence to sell physical products. Google sits atop this chart with a whopping 172.6 million unique viewers per month on average throughout the year 2012. This chart doesn't cover the entirety of 2012 – of course – as it's not quite over yet, instead concentrating on January through October of 2012. Next up is Facebook with 153 million unique viewers per month on average, Yahoo! at 141.6, and YouTube in at 128.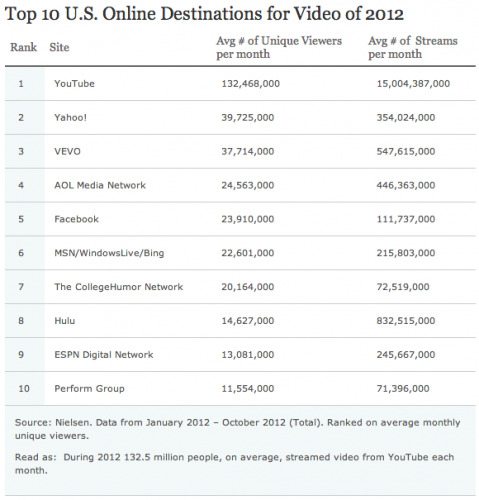 The big run-down from Nielsen also included word on the top 10 "Online Destinations for Video" in 2012. This also included the same study period and, of course, showed YouTube as the clear dominator of the segment with 132 million unique viewers per month on average. YouTube also absolutely decimated the competition with average number of streams per month at 15 billion – the next closest competitor had 354 million. This second entrant on the list is Yahoo! with approximately 40 million unique viewers per month on average, followed by VEVO, then AOL Media Network, Facbook, MSN/WindowsLive/Bing, The CollegeHumor Network, Hulu, ESPN Digital Network, and Perform Group.
Editor's note: Is anyone else surprised that Vimeo is not on the top 10 list for video in 2012?
Keep an eye on Nielsen here on SlashGear to see how the desktop universe worked itself out this year as well – sooner than later!