Nexus One T-Mobile Upgrade Price Cut To $279; Insurance Now Available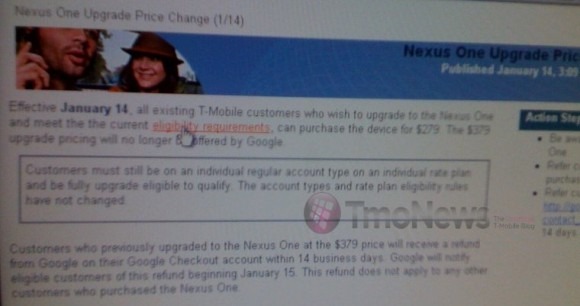 Change is afoot with the Nexus One, or to be more accurate with Google and their initial carrier partner in the US, T-Mobile.  According to some leaked screenshots from internal T-Mobile systems, the pair are preparing not only to reduce upgrade pricing for the handset from $379 to $279 for existing subscribers, but to offer insurance for both unlocked and subsidized handsets.
The best part of the new subsidy news is that existing owners – i.e. the early adopters to whom the Nexus One really appealed – will be getting a $100 refund if they previously paid the old $379 upgrade price.  That will apparently be processed via Google Checkout, and customers should hear from Google starting from today.
As for the insurance, according to the screenshot both customers who picked up a Nexus One unlocked and SIM-free and those who bought a subsidized handset with T-Mobile service will be able to add Premium Handset Protection (PHP) through the carrier's Magenta scheme.  The cover is priced at $4.79 per month, and if your Nexus One requires replacement there's a $130 deductable.  If you've already bought your Nexus One you can still get insurance for it under the scheme – T-Mobile will allow you to add it up to 14 days after purchase.