Nexus 9 keyboard folio possibly outed in China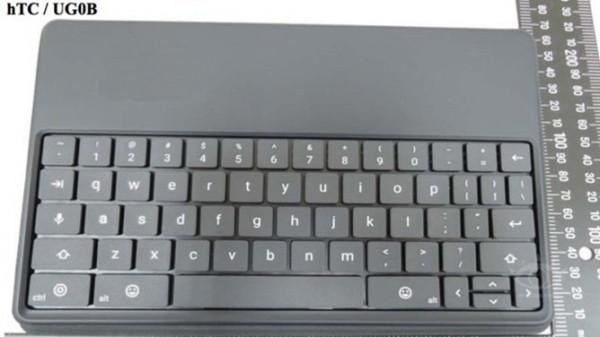 By now, the Android version of the iPad mini — the Nexus 9 — is a foregone conclusion. We've seen enough leaks and such to make us believe it's coming this Fall, so this bit of info falls right in line with the rest. A peripheral keyboard, which may be a cover, has come under the Chinese version of the FCC.
What you see is a keyboard folio, likely unfinished (with an iPad cover shown for sizing comparison purposes), which brings the touchscreen keyboard to reality. A voice command key will likely serve as a speech-to-text utility while typing, but could be used for Google Now (Search) otherwise. Aside form that, it looks like a rather bland keyboard.
We say "unfinished" for a few reasons. First, there are some happy faces on the "Alt" keys, which could simply be quick-launch for emoticons. A target looking icon on the "Ctrl" key is also different. there is also no charging mechanism shown, or way to attach your Nexus 9 tablet. Two separate variants seem to suggest HTC has yet to decide how this one will look.
Of course, this isn't one we're seeing beyond certification, so we'll temper any enthusiasm. Typing on a small frame can also be maddening, leading us to throttle-down. Given that the Nexus 9 will probably house a Tegra K1 chipset, we'd have been much more excited to see some official gaming pads instead of a keyboard.
Source: VR Zone