Nexus 8 Possibly Leaked On Android Website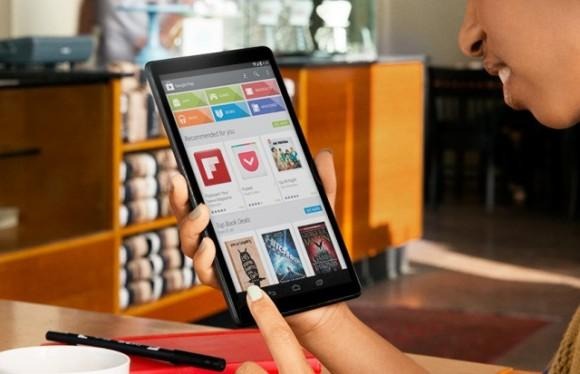 The Nexus 8 tablet may have just been leaked on the Android wbesite. If you go to the Apps & Entertainment promotional page on the site and scroll two-thirds of the way down the screen, you can see a woman sitting at a table and holding a tablet that appears to be about eight inches long. The Verge points out that Google never shows "generic" photos of devices that don't exist, leading us to believe the tablet may very well be the company's next big hardware move.
The display of the would-be tablet shows on-screen navigation buttons. The device is running Android 4.4 KitKat, as evidenced by the icons in the status bar. The bezels on the tablet appear to be very narrow, which would set it apart from the Nexus 7, the company's current mid-sized tablet flagship.
As if to show us that the device is not just a mistaken Nexus 7, another photo higher up on the page shows a girl holding a bona fide Nexus 7 (as shown here below.) That device appears to be about the same thickness as the possible Nexus 8 shown in the innocent-looking teaser photo. No other identifying markers give more clues.

A Nexus 8 could very well be the Nexus 10 replacement we've been hearing about for some time now. It would be the latest in a long line of Google tablets honing in on the optimal size spread for the market. The past year has shown that mid-size and mini tablets (and phablets) are the preferred happy medium between easy viewing, portability, and attractive pricing. A Nexus 8 would fit the bill nicely.
SOURCE: Ars Technica