Nexus 7 sleeve shipping refunds surfacing amidst lower Play Store pricing structure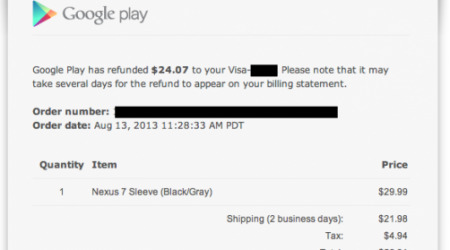 Google launched the sleeve for its new Nexus 7 tablet yesterday, a neoprene protective cover for the slate that was available for purchase in both the U.S. and Canada. The sleeve itself was priced at $29.99, which falls in line with conventional pricing elsewhere. What didn't match up to expectations, however, was the shipping price.
The shipping prices started at $17.98 and went up from there, in some cases coming so close to the price of the sleeve itself that some were wondering why Google had priced it so high. Despite the high shipping cost, many Nexus 7 owners bought the sleeve, and are now seeing refund notifications showing up in their inbox today.
The refunds, one of which you can see above from the folks over at Android Central, shows the full total of the shipping fee being refunded (thus resulting in free shipping for those who purchased). This coincides with new shipping prices for the Nexus 7 sleeve, all of which fall more in line with what we'd expect to see from a simple sleeve.
The shipping prices are now available in three tiers, with the cheapest being the "Saver" shipping option of 5 to 10 days for $3.99. From there, the "Ground" shipping option cuts that time down to 3 to 5 days for $7.99, and the new third options is for those who want the sleeve in two days, being priced at $11.99.
If you bought the sleeve yesterday for the higher shipping price and you haven't received a refund yet, hang tight – one will be showing up soon, if other users' experiences are any indication. For those who have received a refund notice, note that Google says it'll be several days before the funds are actually back in the bank account.
SOURCE: Android Central