Nexus 7 premium cover and dock details leak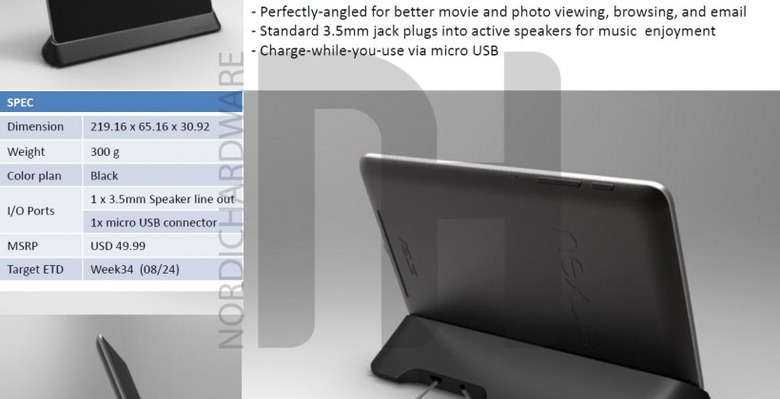 The Nexus 7 has been shipping out to customers across Europe and the United States, but accessories for Google's affordable tablet have been lacking. There's a simple polyurethane cover, but no premium options or docks of any kind. Nordic Hardware has spied some slides that detail some accessories that are on the way from ASUS, including a premium leather cover, desktop dock for the tablet, and 10W power charger.
The first accessory is a "Premium Cover" for the Nexus 7. ASUS describes the cover as being made from genuine leather, and it will have a microfiber material on the inner flap in order to keep the screen clean. The case is said to be hardened and reinforced to protect against tumbles, and several colors will be available, including red, orange, black, and white. The cover will ost $39.99 and be available by the end of August.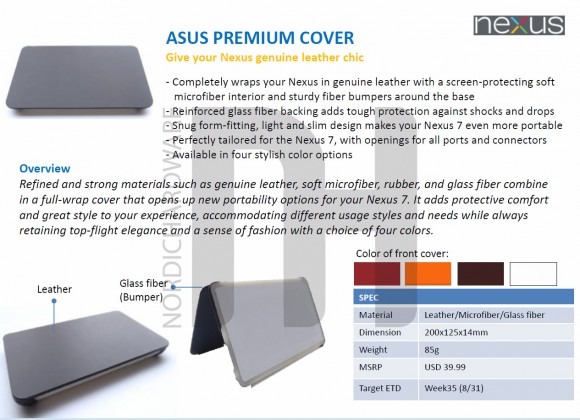 Next up is a desktop dock for the tablet. Many were wondering what the 3-pin connector on the side of the tablet was for, and it looks like it was added to take advantage of accessories such as this. Having said that, the dock is very basic: it only includes a microUSB port so you can supply power to the tablet, and a 3.5mm headphone jack for audio output. There's no video output of any kind, as ASUS had to scrap the necessary silicon inside the Nexus 7 to keep costs down. The dock looks to cost $49.99 and be available on August 24th.
Finally, ASUS will be offering additional 10W wall chargers for the Nexus 7 in case you lose the one that comes in the box. ASUS will offer options for the United States, UK, Australia, and Europe, and a 90cm long microUSB cord will also be thrown in for good measure. They're a little pricey at $24.99, so it might be worth shopping around for an alternative.
[via Phandroid]