Nexus 6P, 5X leaked again, this time with colors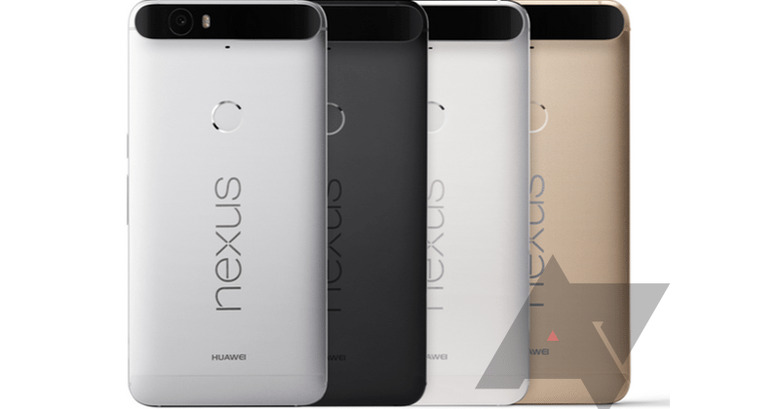 Just because Google's announced event is just around the corner doesn't mean the leaks and rumors have to stop. Quite the opposite, everyone is trying to get their last minute unofficial sources in before all of it is either validated or made moot. For example, we're once again getting some more or less better quality PR images of the Huawei Nexus 6P and the LG Nexus 5X. This time, however, we're also being given a peek at the color options that might be available when the two land next week.
The Nexus 6P will come in silver, black, white, and gold colors, in that order in the photo leaked above. The photo doesn't show much difference between the silver and white options though this is just a photo, of course. This PR photo also confirms that rear design of the smartphone, and we're still hoping that the black bar bump at the top isn't just for show, which would make it one rather odd and unnecessary embellishment.
The Nexus 5X too gets a color leak, but this time in only three choices of white, black, and a sickly shade of blue. The latter is somewhat new to the Nexus line and we're missing the red previously available on the Nexus 5.
We have a bit more than just a lone photo for LG's third Nexus. Amazon India seems to have accidentally spilled the beans when it put up the Nexus 5X, formally the LG Nexus 5X LG-H791 on its product listings. The retailer's info confirms what we've been hearing about so far in terms of specs, including the 5.3-inch Full HD display, Snapdragon 808 hexa-core processor, 2 GB of RAM, 16 GB of storage, 12.3 megapixel rear camera, 5 megapixel front shooter, and 2,700 mAh battery. Amazon India also names the color options as Charcoal Black, Quartz White, and Ice Blue.
The Nexus 6P and Nexus 5X are expected to debut at Google's September 29 event, along with the official launch of Android 6.0 Marshmallow and one or two new Chromecast devices.
VIA: Android Police (1), (2), Techlomedia