Nexus 10 gets complete teardown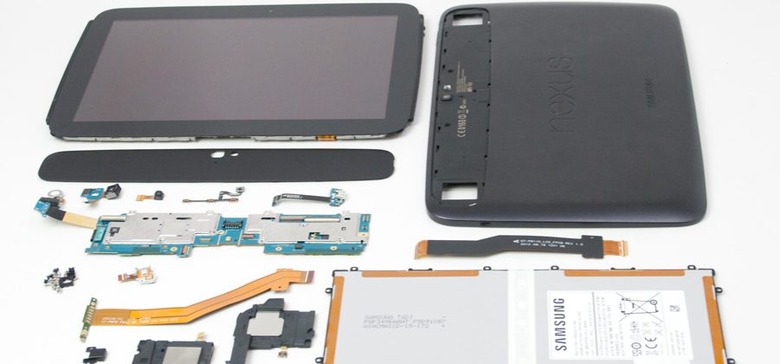 Earlier today, we showed you the Nexus 4 getting its time on the surgery table, and now Google's new 10-inch tablet, the Nexus 10, is making its teardown debut. The folks at PowerbookMedic (not iFixit for once) are the first to publish a comprehensive photo essay of taking apart the Nexus 10. The result ended up being a pretty easy tablet to take apart.
The most notable aspect that the disassemblers noticed was how easy the Nexus 10 tablet was to disassemble compared to the iPad. While Apple likes to tighten up their products and make them hard to repair, Google and Samsung took an entirely different approach with the Nexus 10, making the whole device way easier to take apart than any of Apple's iOS devices.
The back cover takes nothing but a screwdriver, a suction cup, and little bit of force to separate it from the display, and thus revealing the internal components that make the tablet sing. Removing the battery is also really easy, and the connector is made of rubber instead of plastic, which makes it more durable and less likely to break during a repair.
It seems a lot of the components are held in with just #00 philips screws and not a lot of glue like you would see inside the iPad. It certainly makes disassembly a lot easier and the repairability is top notch. As expected, the Nexus 10 runs on Samsung's hardware, including the Exynos 5 Dual chipset, as well as the battery and flash memory.
[via PowerbookMedic]