NextDesk Velo allows you to exercise while you work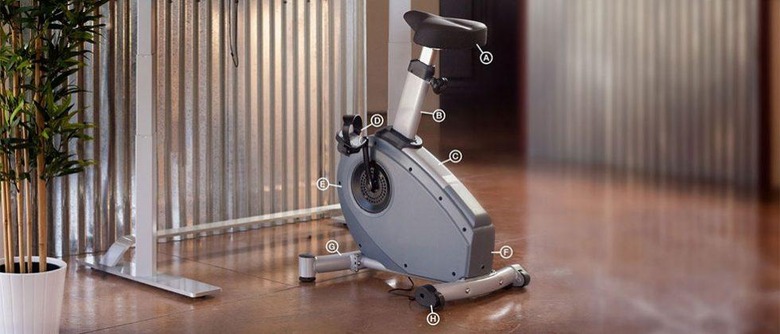 Standing desks have been around for a long time with the idea that allowing workers to stand up and work might be the perfect way to get people more active and comfortable during long days. One of the best-known standing desk companies is NextDesk and it has rolled out a new device designed to allow users to exercise while they work.
The new device is called the NextDesk Velo and it allows you to exercise with a resistance exercise bicycle while you work. It looks like a traditional exercise bike minus the handlebars. The goal is to allow the user to burn calories and improve health while they work.
The seat of the Velo is made from molded foam and has 19 different height adjustments. The bike has magnetic resistance (eddy current) to choose the difficulty level you want and the pedals are self-balancing. The device is quite heavy with a flywheel that weighs 18 pounds. The maximum user weight is 400 pounds.
Dimensions for the Velo are 22" x 28" and the bike has rear transport wheels on the back. Integrated Bluetooth allows the bike to connect to your device for activity tracking. A free Velo Club membership is included that allows you to track your exercise goals in the cloud.
An integrated USB port saves pedal revolutions, distance, calories, and direction data for uploading to your account after a workout. The Active Trac app allows access to this account from smart devices wherever you go. That app is available for Mac and Windows devices; there is no word on Android device support. The NextDesk Velo starts at $799 and has estimated ship date of 10-12 to 10-13 if you order now. NextDesk unveiled a device earlier this year that turns any desk into a standing desk called the NextDesk CrossOver.
SOURCE: NextDesk