Next Pleo color will be chosen by voters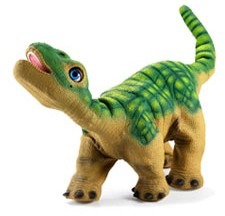 You might recall that Pleo robot baby dinosaur that was on the market, killed off and then relaunched in October 2009. The thing is an articulated robot that can interact with the user and its environment. My kids have a couple of these things and for a while, they carried them everywhere.
The only color Pleo you were able to get so far has been the green and brown robot that originally debuted. The original color scheme will be changed to something new later this year and you can vote for what that color should be.
If you can't wait for a new color and need your own robot dinosaur right now, you can pick one up for $349 with free shipping. The little robots are cool, but if my kids are any indication the cool factor wears off quickly and then you have a $350 decoration for their rooms.